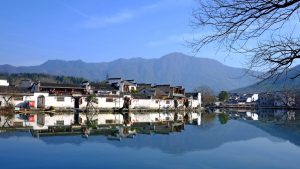 Hongcun Ancient Village is located in Yixian County, Huangshan City, Anhui Province. It is known as the "painting village" and is about 30 kilometers away from Huangshan. There is a direct shuttle bus to reach the village. Hongcun ancient dwellings are typical representatives of Hui-style architecture, and are the birthplace of Hui culture and one of the important gathering places of ancient Hui merchants.
Going to Huangshan, you can miss the Hongcun Ancient Village. Walking into Hongcun Ancient Village, the name of the village in the painting is well-deserved. Hongcun is backed by Huangshan Mountain and has rivers inside. The air is fresh and attracts many domestic and foreign tourists.
Hongcun and Xidi are two small villages that you should have a visit during your trip to Huangshan. Hongcun Ancient Village is a very simple village, which features very characteristic buildings, black and white gray tones, and it looks like an ink painting.
Hongcun Ancient Village is very beautiful. The Hui architecture is preserved very good. There are many tourists. Strolling in the South Lake in the morning is like walking in a fairyland. Ink Hongcun is well-deserved. The Hui architecture is quite unique. The still waters reflect the buildings of some ages, and there is also a kind of beauty that cannot be said.
Different seasons and different climates will receive different feelings in Hongcun Ancient Village. The business atmosphere there is not very strong, although there are more tourists, the management of the scenic spots is still in good order. The pattern of Hongcun ancient village is different from other places. It has its own unique characteristics. The drainage structure of the cattle-type water system maintains its former glory and highlights the wisdom of the ancients. It is very worth seeing. There is also a large ticket discount for Hongcun Ancient Village. It is half of the ticket for people who are 60 years old and above, and it is free of charge for people who are more than 65 years old.
Hongcun Ancient Village is now a famous tourist destination, and this place receives many tourists from home and abroad every year. The architectural style, the layout of the village, the leisurely folk customs, and the harmoniousness between man and nature are all highlights that are worthy of our taste.