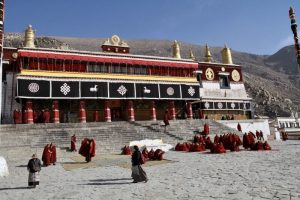 Drepung Monastery is the largest and highest-ranking temple in the Gelug Sect of Tibetan Buddhism and the largest temple in the world. The white buildings are covered with hillsides, and looking from the distance, it is like a huge pile of rice. There are some well-known buildings in the temple, including "Gandanpozhang", "Cuoqin Hall", and the four "Zhacang" and the affiliated Kangcun. In addition, the "Tibet's Largest Kitchen" next to the Cuoqin Hall served as a task for more than 10,000 monks to cook and make tea during their heyday. What you can't miss in the Drepung Monastery is a large-scale debate ceremony every afternoon. The squatting people are in groups of two, one sits on the ground, the other stands on the opposite side, and the verses are debated in exaggerated movements. The scene is very interesting. Every year at the Sho Dun Festival, Drepung Monastery holds the largest buddha ritual in the Tibetan area, displaying a giant Buddha image Thangka on the hillside, attracting a large number of believers and tourists to pray, whose scene is very spectacular.
Official phone number of the Drepung Monastery: 0891-6860011
Time reference for visiting: 1-3 hours
Transportation to the Drepung Monastery: Take bus No.24 and No.25 to the Drepung Monastery Station, then take a hike along Dangba Road for half an hour. Sometimes there are tractors carrying tourists up the mountain, which costs 1 yuan/person, otherwise you have to walk up the mountain.
Tickets: Ordinary ticket: 50 RMB (from Monday – Sunday during January 1st – December 31st)
Opening hours: 09:00-16:00 (from Monday – Sunday during January 1st – December 31st)
Tips: The debate begins at 14:30, and most of the temples in the afternoon are closed.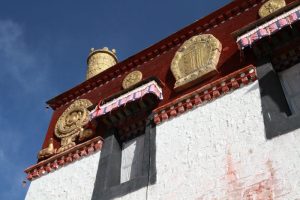 If there is enough time, everyone can experience the debates of Tibetan monks. Although you maybe don't understand, and they look a bit like quarrels, it is interesting. Except for Drepung Monastery, you can also see the debate at Tashilhunpo monastery. No photos are allowed in all the temples, but many stories about Tibetan Buddhism you hear along your trip there are the biggest gains, and you can see many Tibetans coming to worship, with no malicious evaluation.