Traveling is easy these days. Planes, trains and ferries criss-cross the globe, Google maps and GPS can pinpoint your location in minute detail, and thousands of guidebooks, websites and blogs provide real-time information on almost every place imaginable. While this is certainly more convenient, it's hard to imagine that same sense of exhilaration felt by great explorers doing something for the first time: Columbus setting foot on America; Hillary summitting Everest, for example. Earlier this month, however, I discovered that real off-the-beaten-path adventuresare still possible, if you know how to find them…
Tibetan home in Zhonglu Village
After a painfully early start and an hour's delay in Beijing, I arrived at Chengdu airport around noon, where I was met by Frederique Darragon. Born in Paris, Frederique inherited a small fortune from her father, an inventor who died when she was 4 years old. Instead of buying things, Frederique chose to spend her money on exploring the world. Despite my tiredness, the 9-hour bucking-bronco journey from Chengdu to Danba, a quaint little Tibetan town in western Sichuan, passed quickly as Frederique wowed me with stories of her travels – hitchhiking across the United States on a shoestring budget, working on a kibbutz in Israel, sailing the Atlantic in the first race from Cape Town to Rio de Janeiro, living amongst the golden eagle hunters in Mongolia, and being rescued by Tibetan shepherds after suffering a stroke while searching for snow leopards on the Tibetan Plateau. She has been a model in Paris, a record-breaking polo player and 8-time thoroughbred racing champion in Argentina, a lauded samba dancer in Rio…
Twelve years ago near Danba, Frederique came across a tall tower made of cut stone, bricks and timber. Thinking nothing of it at the time, she came across a similar one a year later in Tibet, 800 kilometres from the first. The locals she asked had no idea who built them, how old they were, or what they were used for, and further inquiry revealed that despite their abundance in this area (known as the Tribal Corridor), almost no scientific research has been done on them. They are one of China's enduring architectural mysteries. Frederique was intrigued, and intent on uncovering their story.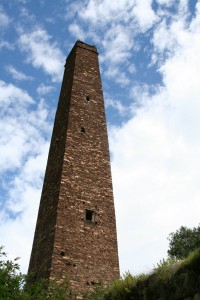 Tower of Danba Valley
Over the next decade, Frederique sifted through journals, articles and ancient texts looking for references to the towers. She wandered the area interviewing local people, gathering data from 250 standing towers and over 750 ruins, taking photographs and collecting wood samples for carbon dating, in search of clues. Using the money that her then boyfriend, media mogul Ted Turner, had given her to buy dresses, she set up the Unicorn Foundation – dedicated to preserving the towers and improving the livelihoods of the people in the area. She also published a book, filmed a documentary that aired on the Discovery Channel and put together a photo exhibition to raise awareness of the towers both in China and the West.
The next morning, inspired by Frederique's go-getter travel philosophy, I decided to make my own way to Zhonglu, a small village 20 minutes northeast of Danba. The landscape was breathtaking. Dozens of square towers and fortress-like Tibetan houses are visible from the hilltop viewing platform, scattered across both sides of the Danba Valley. Villagers in traditional garb were bent over in fields of crops or drove animals along the narrow pathways through the village, and yet, I couldn't shake the feeling that the experience was not completely authentic. From my perch I could also make out a shiny cavalcade of SUVs parked outside the only guesthouse in Zhonglu, and an old lady in a toll booth had charged me 20 RMB to enter the village.
When I mentioned this to Frederique later, she explained that the landscape's steep contours means that land for cultivation and building property is extremely limited.
Old buildings, including the ancient towers, are typically knocked down to make space for new ones, and the stones are reused as building materials. Her take on the toll fee is positive: if the locals recognize the value of the towers as tourist attractions, they will be more inclined to protect them. They will also be less reliant on harvesting Chinese herbal medicines and logging timber as ways to supplement their limited income, which reduces the pressure on the local environment. The next step is to convince them to think about long term sustainability and ecotourism, instead of trying to make quick money though mass market tourism. That's where AsiaTravel hopes to help.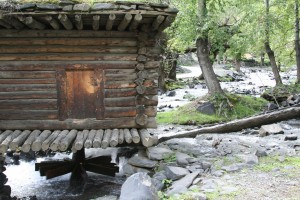 Water-powered cornmill
That afternoon, we drove a little further down the road to another village called Pujiaoding. The road wound up the side of the valley, narrowed then came to dead end. We hopped out of the car and continued on foot along a narrow dirt track, which opened up to a small primary school. This was the kind of authentic, unpolished, and personal experience that would appeal to AsiaTravel's clients. Schoolchildren were playing basketball on the concrete playground as the school principal showed us the areas in need of repair. Seeing the multitude of little problems that could be solved with a small donation and a bit of elbow grease reminded me how much we take for granted in more developed parts of the country. Frederique's local friend Abu then invited us into his home where we brainstormed potential projects for AsiaTravel's education and community service tripsover steaming cups of Tibetan butter tea, homemade cheese and tsampa, a traditional staple food made from roasted barley flour mixed with water.
This pattern of events happened for the rest of the trip. We would stop in relatively touristy spots, particularly at night, but just around the corner there were hidden gems to be discovered: a tiny village that still uses the power of falling water to grind corn into flour; little old ladies that have never seen tourists, let alone foreign ones; unspoilt fields of rainbow coloured wildflowers beyond the pastures. The five days I spent with Frederique highlighted how I will approach all my travels in future, with an open mind, engaging with local people and proactively searching for experiences and adventure.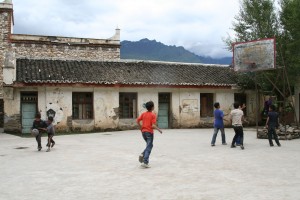 School in Pujiaoding
———-
Author of this post Samantha Woods is a manager at AsiaTravel.  To learn more about Danba and journeys to this area, please contact us at info@wildchina.com.