So you've tried Chinese food from all over the country – Beijing's famous street snacks, dim sum from Shanghai, hotpot from Sichuan, perhaps even Yunnanese cheese. But have you ever sampled Xinjiang cuisine?
Never fear, AsiaTravel is about to give you a 6-dish tour of Xinjiang, China's next biggest foodie destination. On one of our many Silk Road tours, you'll be able to stop in Xinjiang to try all these sumptuous treats. Get to know more about our Silk Road tours by reading our blog post.
1. Ice Cream
The gelato of Xinjiang, formed from a holy trinity of cream, ice, and sugar. Using a large metal spatula, ice cream vendors manage to pile an impossible amount of ice cream even into the tiniest size of paper cup they're served in. The most common flavour you'll find is cream, but on your meanderings through the winding streets of Kashgar, you'll stumble across a rainbow of pastel-coloured seasonal flavours like pistachio, fig, almond, or melon. Milky and smooth, the ice cream is hand-churned and at around 3RMB a cup, it's a bargain compared to your local artisanal gelato and just as delicious.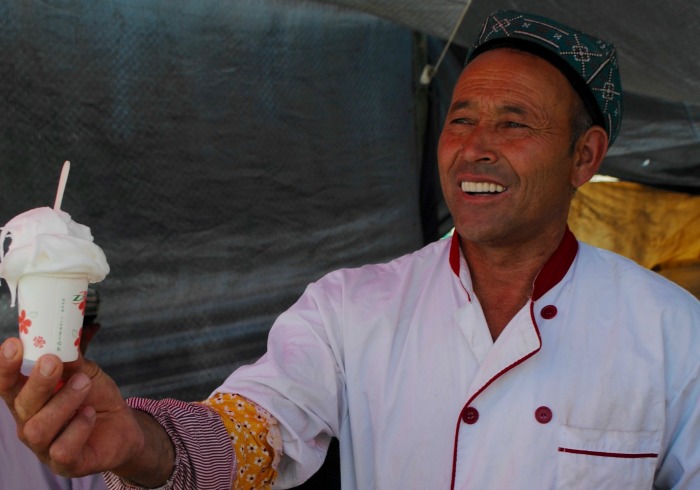 Photo by Alexandra Boulton
2. Polo
This is a popular dish you'll find everywhere in Xinjiang. Polo is made of rice slow cooked with slices of carrot and peppers, often studded with fat Xinjiang raisins, and always topped with succulent lamb. Does the name sound familiar? Perhaps you've sampled pilaf, a cousin of this dish served all over the Middle East and Central Asia. Although lots of Xinjiang dishes are eaten with chopsticks, locals use a spoon for their polo. In the past, people used to eat this dish with their hands, hence the Chinese name translates as 'rice eaten with the hands'. If you go to a market for polo, you'll usually be dining at a long communal table dotted with huge enamel or metal teapots filled with the fragrant local brew. Polo is quite a heavy dish, so a small plate of grated carrot, stirred through with vinegar and spices will usually be served alongside.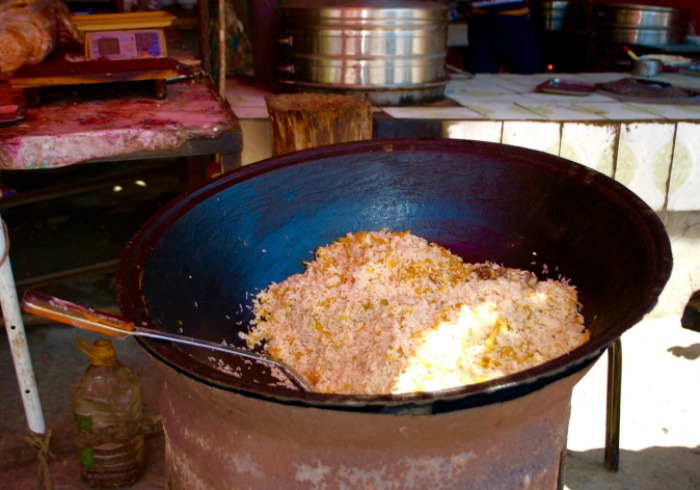 Photo by Alexandra Boulton
3. Pomegranate Juice
This drink is currently a popular superfood (containing more antioxidants than green tea) in the West, but it's an old favourite in Xinjiang. Be sure to try a freshly pressed cup of pomegranate juice and look out for the telltale sign of freshness: a pile of pressed pomegranate carcasses. With no added sugar, chemicals or additives, the juice is crisp and refreshing, sweet, with a slight sharpness. A small cup of this refreshing treat will power you through a morning of shopping or sightseeing.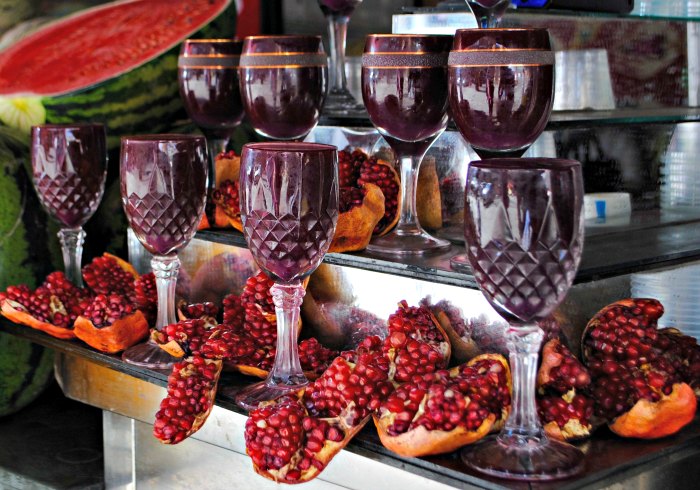 Photo by Alexandra Boulton
4. Samsa
Baked in a stone oven until crisp, these buns are made of a simple dough of wheat, water and salt, and stuffed with juicy diced lamb and onion. Your samsa will be blistering hot as it comes straight out of the oven so as you wait for it to cool down, make like a local and inspect the base for small stones- they may have escaped from the oven with your parcel. Once you've picked them off, watch out for dribbling juices as you bite into your pie. The road to a good samsa is littered with peril, but it's well worth the journey.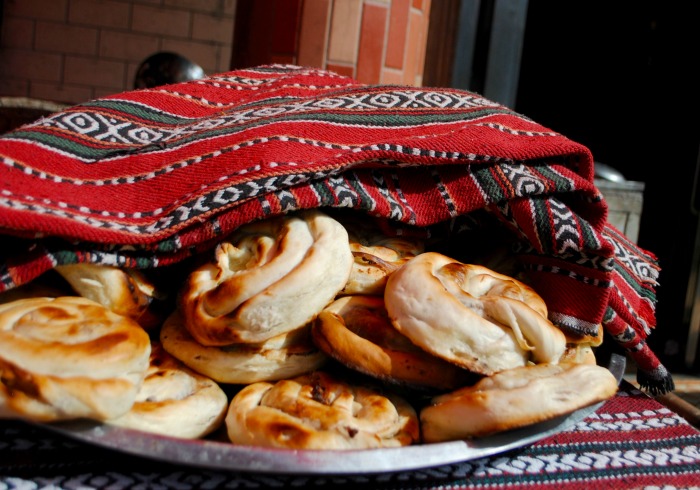 Photo by Alexandra Boulton
5. Fresh Melon
Go to any market in Xinjiang during the melon season (Summer), and you'll be overwhelmed by stall-owners selling it by the slice. Throughout China, Xinjiang is known for its sweet and juicy melons, especially the Hami variety. How do you find a melon seller? They'll usually be surrounded by a pile of melon rinds indicating the number of satisfied customers. This is farm-to-table eating so extreme it skips the table stage: after being picked, the melons are put straight on a truck (or horse-drawn cart) to market. Look out for a melon-seller's key accessory: a large packet of paper tissues for customers to clean their hands of juices. 
Photo by Alexandra Boulton
6. Ice Yogurt
Xinjiang's answer to frozen yogurt. Finish off your meal like a local, with a bowl of iced yogurt. The creamy mixture is spooned into a bowl and chips of ice are added. Light and naturally tangy, you can choose whether or not to add sugar syrup according to taste. You'll see locals crowding around vendors, sipping away and holding out their bowls for more sugar syrup or ice.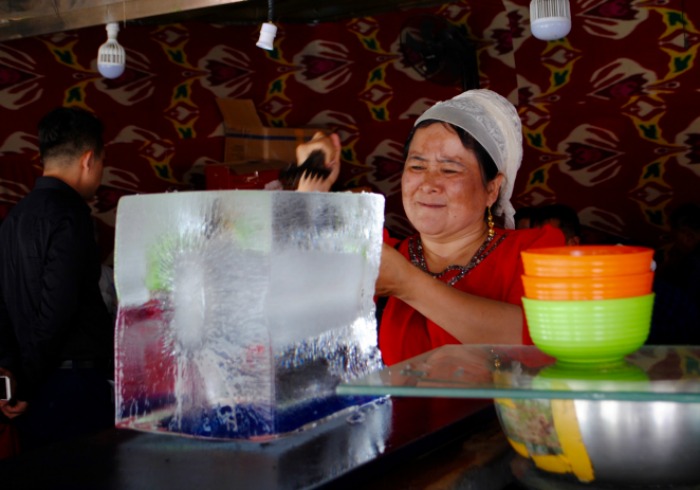 Photo by Alexandra Boulton
You'll be spoilt for choice eating in Xinjiang. But how will you know where to go for the best ice cream in Kashgar? Where can you picnic in the shade of Turpan grapevines? If you travel with AsiaTravel on a Silk Road journey, you'll be accompanied by our local guides who know the area better than anyone. They can guide you to the best food and help you converse with vendors to learn how to make your favorite Xinjiang dishes when you get home. They'll even introduce you to a local family who will invite you home and teach you how to feast Xinjiang-style. 
And of course, travel to Xinjiang isn't all about food. Let AsiaTravel guide you on your voyage and we'll take you to see Flaming Mountains made famous by China's seminal piece of literature, Journey To The West; to feel a cool alpine breeze by the clear waters of Karakul Lake; and wander the ruins of an ancient capital, long abandoned in Xinjiang's 'Death Valley'. For more reading about Xinjiang, check out our blog 6 Things You Didn't Know About Xinjiang.
RELATED READING: Top 10 Xinjiang Dishes
– 
If Xinjiang sounds like your kind of destination, check out the itinerary for our Marco Polo's Silk Road, or Northern Xinjiang journeys.