I just did an interview by email with Chris Horton, Founder / Editor of GoKunming. His questions brought back so many nice memories of Yunnan. Thought I'd share them here: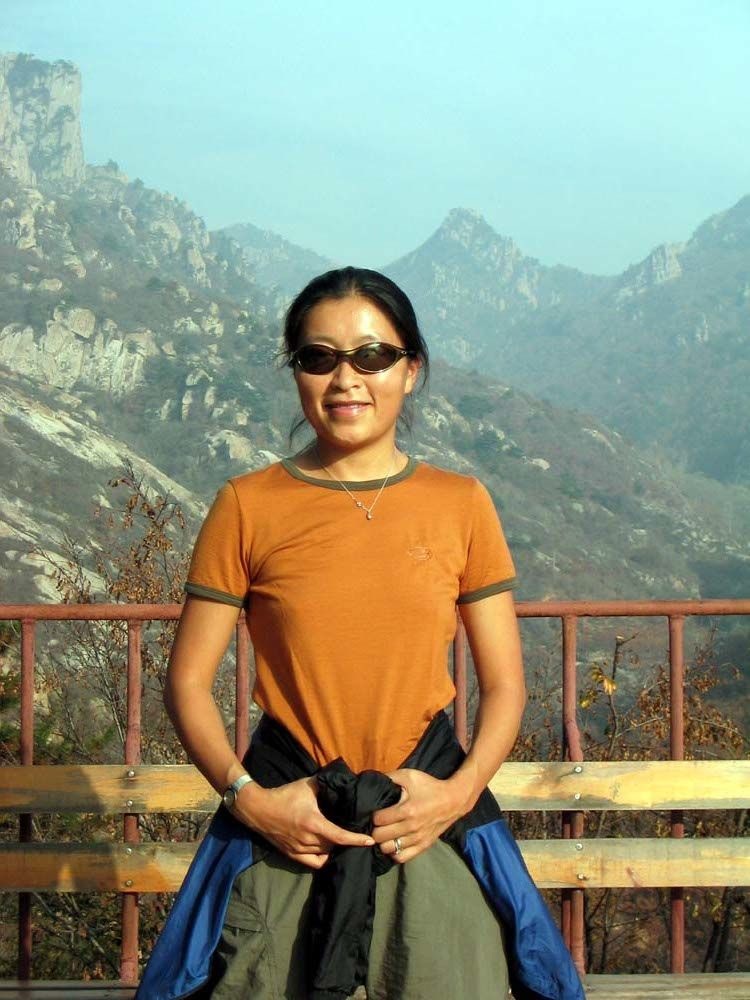 Mei Zhang: Yunnan native, AsiaTravel founder, China travel expert, entrepreneur and mother
Chris Horton (CH): Where in Dali did you grow up? What are some of your strongest memories of that time of your life?
Mei Zhang (MZ): I grew up in Dali until I was 9. That's when my family moved to Kunming. My memories of that time that keep coming back are many. We used to go to a hot spring for baths near Xiaguan. There are always camellia blooming, and we'd climb the mountain behind the hot spring to pick big white flowers (Rhododendrons as I learned later). There were so many of those white flowers that we'd cook them for dinner! I remember people in Dali loved flowers, there are wild jasmines and other fragrant flowers for sale in the market all the time. Talking about market, that's my favorite. Many different ethnic people would also come to the market, the Yis or Bais, wearing beautiful clothes, selling fresh vegetables and eggs. I still come back to Yunnan to search for those moments. (By the way, thank you for asking this question, it brought back so many nice memories.)
CH: What was the chain of events that led you from Dali to Harvard?
MZ: If this didn't happen to me, I wouldn't have believed events like this would ever happen. So my Dad, who was a worker building the hydropower station in Xiaguan, decided that the best thing he could do for me and my brothers was to give us the best education possible. He moved us to Kunming for better education. When I was testing for high school, he made me apply to the Foreign Languages school affiliated to Yunnan University, hoping that if I couldn't get into college, at least I'd have some English to be a secretary. I got it, but I cried and cried, believing that he robbed me of the opportunity to become Madam. Currie of China. After that, I got into Yunnan University, studying English and Law. I started taking part time jobs as an interpreter since college to pay for school. Then one day, at an usual official banquet hosted by Yunnan Government for Krung Thai Bank from Thailand, my life changed. The president of the bank decided to give a spontaneous speech. None of the government interpreters were willing to go up to the stage with him, as there was no preparation, no script. They all recommend that I go up onto the stage, as I was the youngest interpreter with nothing to lose. So, I did. After that, the officials from the Bank invited me to sit at their table, and offered me a scholarship I couldn't resist. The rest is history.
CH: What was the inspiration behind founding Wild China in 2000?
MZ: See here: http://www.wildchina.com/application/assets/img/press/pdfs/World-of-Chinese—See-a-Different-China.pdf
CH: What are the most surprising or amazing places you've discovered in China since then?
MZ: There are many, so I'll just pick a few from memory. I remember seeing the villages near the Yellow Mountains for the first time. I was struck by how beautiful the traditional architecture was, and how much history the places endured, and how sad the current state was – all adults gone to work in the city as migrant workers, with only grandparents and kids left in the village. Guizhou Province also struck me an unbelievable place. It's also in the Southwest of China, but incredibly poor and lack of development. In a way, it reminds me of the Yunnan I grew up with. Rice terraced fields with ethnic hamlets scattered here and there. Traditional lifestyle that's so beautiful and the hardship so challenging. That's the China I knew and loved.
CH: What notable changes have you seen in China's travel industry since 2000?
MZ: The extraordinary growth of domestic travelers spurred incredible growth in the travel industry. There have been some great advances, for example, I just visited Heshun village near Tengchong in Yunnan. I have to give the development company a lot of credit and respect. I think they did an amazing job keeping the beauty of the place while making it accessible to the general public. The landscaping is beautiful and tastefully done, and the written materials are interesting and well done. There are more and more lodges and hotels that are also tastefully done around the country. These are all great. But, I feel sorry for sites and places that are too quickly run over by tourist crowds. Lijiang old town is a prime example.
CH: How often does Yunnan figure into your clients' travel plans? What are the most popular destinations?
MZ: Very often. It's one of our top destinations. Before I traveled the world, I thought I was just biased because I was from Yunnan. Now that I have been to Mt. Everest, South Africa, Italy, Peru, you name it, I know Yunnan IS one of the most extraordinary destinations in the world!
CH: What are your favorite places in Yunnan?
MZ: My favorites are: Cizhong in Diqing, I find the catholic Tibetan cultures fascinating; Shaxi Jianchuan Grottoes, I loved the long history behind the whole Tea and Horse caravan road; Tengchong and Gaoligong Mountain, I love the incredible bio diversity there and the WWII history. I just hiked across Gaoligong from Baoshan to Tengchong last week, and thought it's one of the most beautiful hikes I have ever had. After the hike, I called Gaoligong Nature Reserve, and told them that I'd sponsor them in publishing a birding book! Look for it, it's coming out next year.
CH: Wild China has carved out a niche for itself as a provider of sustainable and socially responsible tourism in China for foreigners, do you see these concepts ever becoming important to the domestic tourism market?
MZ: Absolutely, we want to get involved in the domestic tourism market as well, but we have a wait a little bit for the demand to build up more. In the meantime, we are speaking at different forums etc to influence Chinese travelers.
CH: Spending much of your time between Beijing and the US, you're usually far away from Yunnan… what Yunnan dishes do you miss the most?
MZ: I actually make it to Yunnan a lot! At least twice a year, and spending some solid time in the mountains. Yunnan Rice Noodles (mixian) is probably the one dish I miss most. I am a good cook, so can fabricate most items including suancai (pickled greens) myself, but the noodle is beyond me.
———-
Learn more about Mei Zhang and the AsiaTravel story.
Go to the interview link on GoKunming.