Updated: March 26, 2019
A trip to Sichuan is not complete without seeing China's cuddly national icon, the giant panda. There are three main options for panda viewing in Chengdu, each with its unique draws. Read on and find out which panda reserve is the best choice for your trip.
Pandas relaxing at the Chengdu Panda Base. Photo by Jessica Clifton.
RELATED READING: The 4 Most Romantic Places in China
Wherever you decide to go, remember that the best time to visit pandas is in the morning – before 9am if you can manage it. This is when pandas are most active and playful.
A quick comparison of Chengdu's panda centers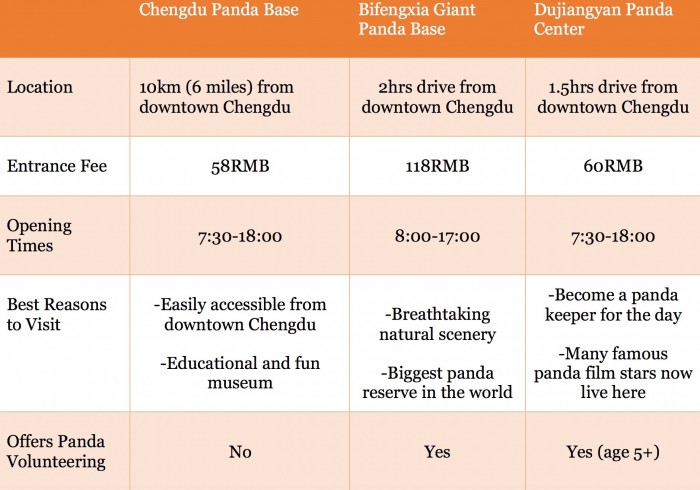 1. Chengdu Panda Base
Just minutes from downtown Chengdu, the Chengdu Panda Base attracts thousands of visitors every year. This is the best option if you only have an afternoon to spare for your panda visit.
The base began with 6 giant pandas rescued from the wild and after years of successful breeding programs, they now have more than 150 pandas. Visitors will find large, outdoor enclosures which make the center feel a bit less like a zoo. Admittedly, the pandas near the entrance seem a little gloomy under the constant gaze of large groups of tourists, but walk further into the park away from the crowds and you will find contented looking pandas enjoying in their favorite pastimes: sleeping, eating, and occasionally exerting some energy to cheekily push their brother or sister off the branch of a tree.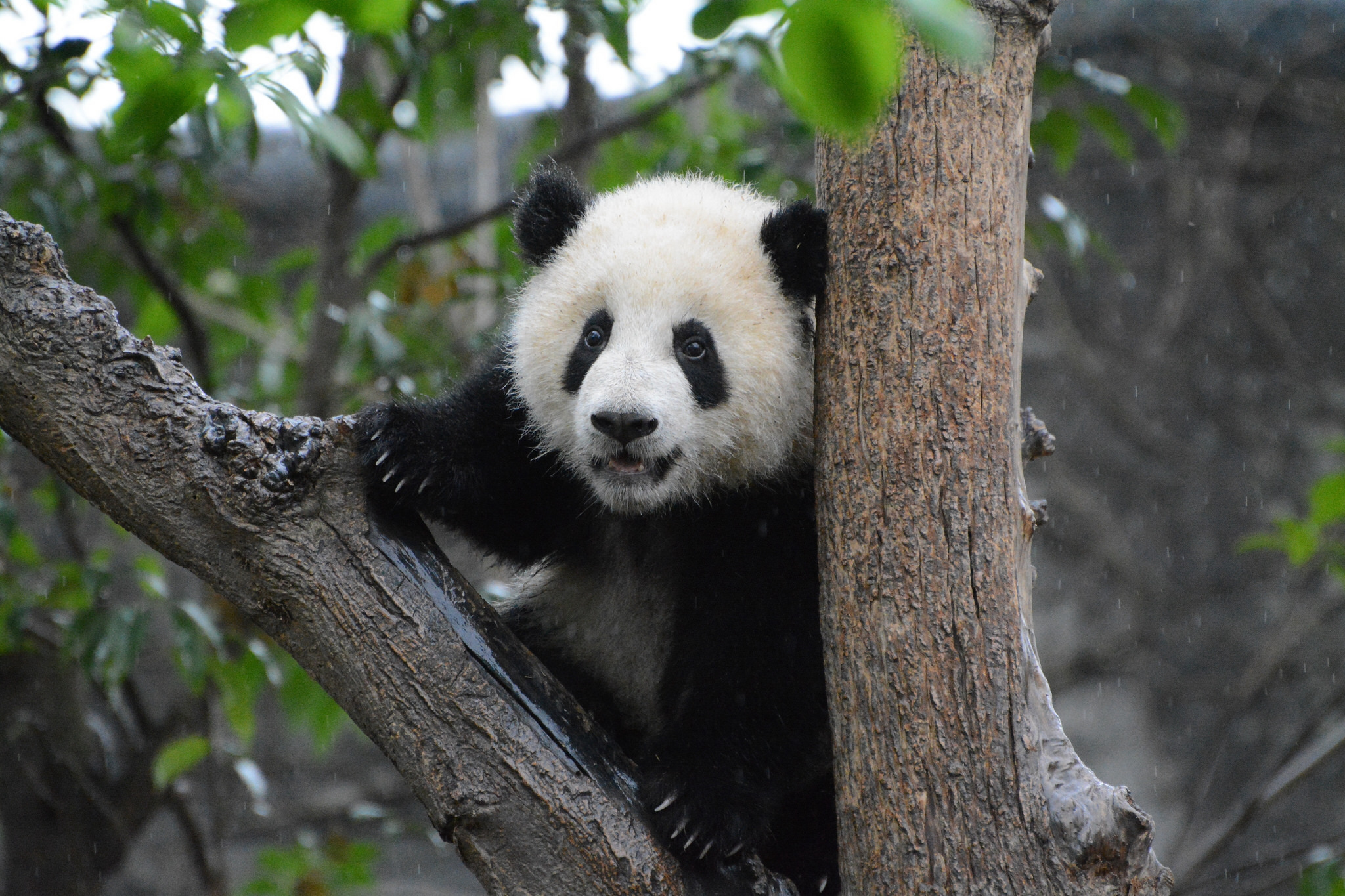 A rainy afternoon at the Chengdu Panda Base. Photo by M. Perdix
RELATED READING: What to Do in Chengdu: Pandas, Hot Pot, and Lazy Days in the Park
The animals here are well looked after, and once you have taken more than enough pictures of giant pandas doing cute things, you can also visit some of the other endangered animals that the base cares for including red pandas, golden monkeys, and many species of birds. The center promotes the importance of educational tourism, so as you wander around the base and enjoy the on-site museum, you will learn hundreds of interesting panda facts to amuse your with friends when you get home. You can even taste the special, high-protein cakes that the pandas are fed each day.
2. Bifengxia Giant Panda Base 
The Bifengxia Giant Panda Base opened in 2003 and is a two-hour drive outside of Chengdu. You will need to leave a whole day free to make this trip, but it is one of the best places in the world to see this beautiful animal. What awaits you at Bifengxia is a reserve of natural forest coverage and beautiful waterfalls. The pandas are relaxed and happy – getting to chew on bamboo, undisturbed and safe in their own habitat.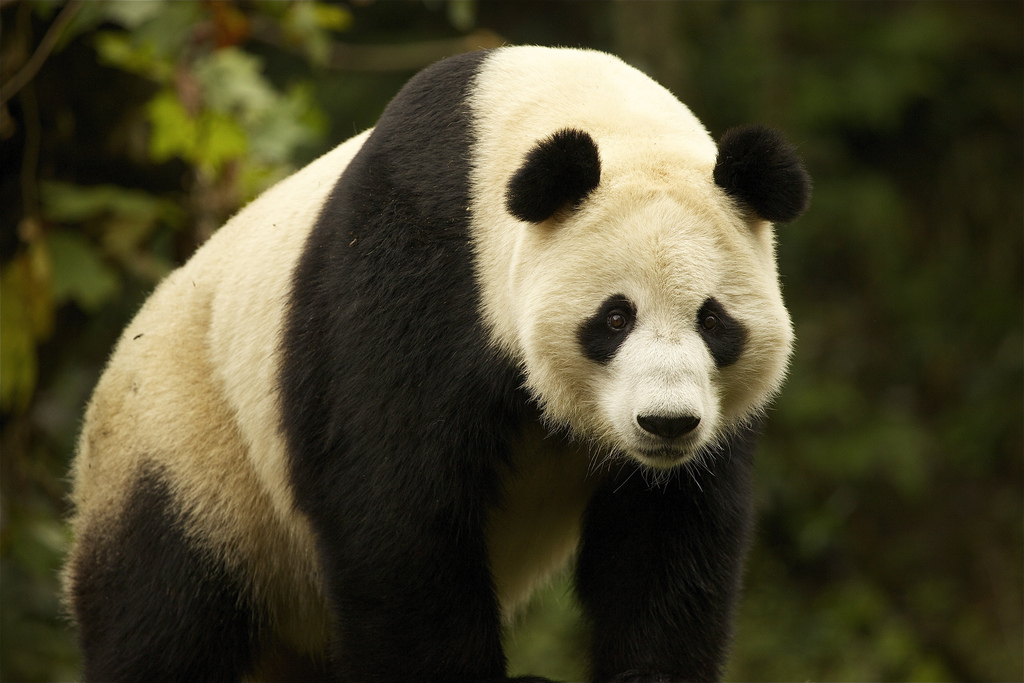 A giant panda at the Bifengxia Base. Photo by M. Jong-Lantink
Many of the Wolong Reserve pandas were relocated here after the 2008 earthquake, so Bifengxia now has the largest collection of giant pandas in the world. This site's main focus is on research. As such, there is much more going on behind the scenes at this base to learn about and care for the pandas. If you enjoy hiking and want to find out more about efforts to reintroduce pandas into the wild then this is panda reserve is an excellent choice. There is also an adorable panda kindergarten where visitors can spend hours enjoying the young panda's mischievous antics.
Map of Chengdu's Panda Centers:
3. Dujiangyan Panda Center
Dujiangyan is the newest panda center in the area and is located about 1.5 hours outside of Chengdu city at the foot of Qingcheng Mountain. The base is smaller than the other two, but its natural environment is similar to the Bifengxia reserve, making it a great location to see giant pandas enjoying their day. The site is closer to Chengdu city than Bifengxia too, so it is a good alternative if you are on a tighter schedule.
Dujiangyan has restarted its volunteer program and visitors over the age of six can now pay to become a Panda Keeper for the day. Participants get to prepare food for the pandas, help clean out their cages, and learn more about these furry friends up close.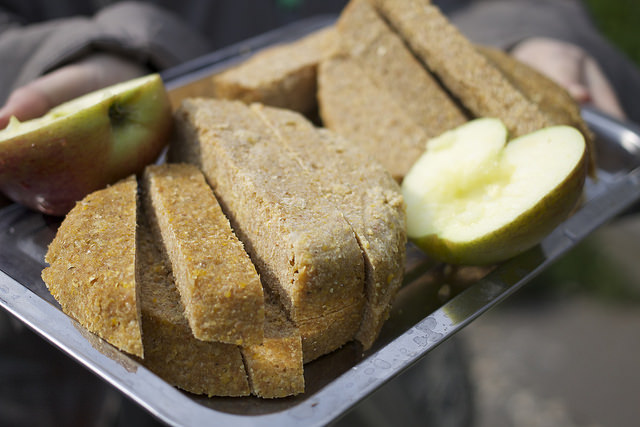 Panda snacks at Dujiangyan. Photo by L.W. Yang.
RELATED READING: Why Are China's Giant Pandas So Lazy?
If becoming a panda keeper isn't enough reason to visit, Dujiangyan is now the home to some movie stars too. Fans of Kung Fu Panda may get the chance to see the panda behind the animated hero.
This reserve is only a leisurely bicycle ride away from the brand new Six Senses Resort and Spa. You could spend your days feeding the pandas and then relax in the evenings with a lovely massage in the spa. Qingcheng Mountain is a beautiful place to do some hiking and the small ancient town of Jiezi is close by. It might be worth spending a couple of days exploring the area and enjoying some time away from the city.
Whichever base you choose to visit, the best tip is to make sure your camera has a fully charged battery. Even people who think they have no interest at all in giant pandas will have changed their minds once they have seen this cheeky creature up close. Also, remember that the main objective of these reserves is to protect these beautiful creatures from extinction. Getting the chance to see a giant panda looking happy and relaxed in its natural environment really is an honor and a memory you will treasure.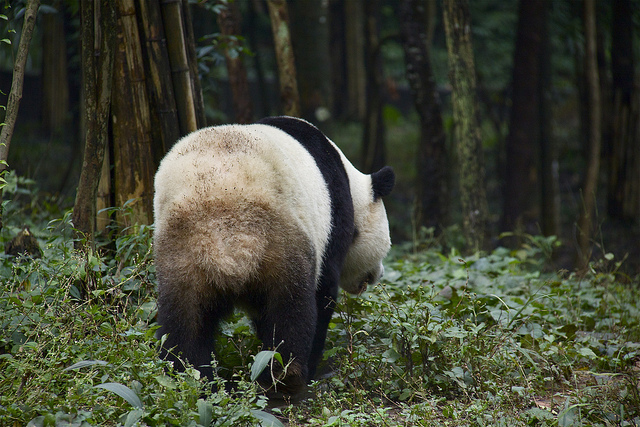 A panda turns to go. Photo by M. Jong-Lantink
RELATED READING: China's Hidden Gems for Rest and Relaxation
Last Updated: March 26, 2019