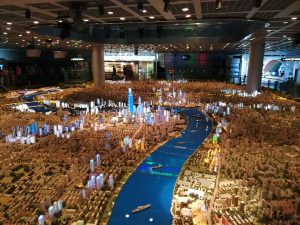 Shanghai Urban Planning Exhibition Center is located in Shanghai People's Square, which is east of the municipal government. It was opened in 2000 and shows the achievements of Shanghai's urban planning and construction development till 2020. It is an AAAA scenic spot, whose ticket is for 30 yuan per person. There are 5 floors above ground, and 2 floors underground, which can be visited from the bottom to the top. The exhibition is lively and interesting, which is reflecting Shanghai's past, present and future. What impresses you the most is the protection of historical buildings. The theme is that the city makes life better! Shanghai Urban Planning Exhibition Center is accessible by multiple subways. You can take Metro Lines 1#, 2# and 8# to get off at the People's Square Station.
Compared with the surrounding high-rise buildings, Shanghai Urban Planning Exhibition Center is extraordinarily petite. The most distinctive feature of the Shanghai Urban Planning Exhibition Center is the urban planning model. Although it is only a miniature model, it clones the largest economic, financial and trade center in China, not to mention its small and exquisite design, just the houses one by one, and the realistic roads have revealed the crystal clearness of Shanghai. The momentum can only be reflected in the urban planning plane three-dimensional model of the Shanghai Urban Planning Exhibition Center in the third floor. The entire Exhibition Center tells people the past, the present and the future of Shanghai and even China in different ways.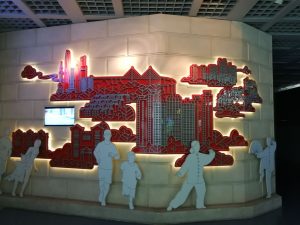 The Shanghai Urban Planning Exhibition Center is a business card to understand the history of Shanghai's development. The environment inside the planning Exhibition is clean and quiet, and it is a place for cultural dinners. During the statutory holidays, it is not open to the public. The five floors show in detail the yesterday, today and tomorrow of Shanghai's urban development. In the 5th floor sightseeing hall, you can also enjoy coffee and appreciate the beauty around the People's Square. The underground exit is a street that feels like the old Shanghai in the 1930s, from where you can enjoy the views of Shikumen, rickshaws, old teahouses, and trams.