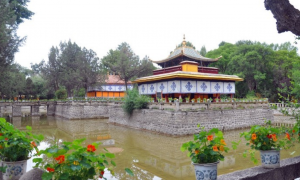 Norbulingka is on the edge of the Tibet Museum. It is known as the summer palace of Lhasa, and it is the residence of the Dalai Lama. In the summer, the plants are flourishing and the Norbulingka is beautiful. The colors are very good. Outside of Norbulingka it is a park where local citizens can relax and enjoy the sun lazily.
It is open from 9:00-18:00 during Monday-Saturday, basically you cannot buy tickets after 17:00 o'clock. There are many people who come for a walk and rest. The monks who talk in the sunshine are different from the serious ones you have seen in other temples. They also love to laugh in life. You can see the contentment of life from their faces. The old people who have tea enjoy every moment there. You will feel that time has slowed down, like the sunset that arrives at 8 o'clock in the evening.
There are a lot of vegetation in the garden, and there are lush forests on both sides of the road. The discomfort caused by lack of oxygen at your first time to the plateau is completely dissipated here. It is a very good choice for your first time to Tibet. It is strongly recommended that anyone who has just arrived in Lhasa does not adapt to the weather there take your visit to the Norbulingka and prepare for the next trip.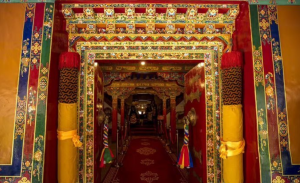 The Norbulingka is composed of several groups of palaces. It is called Zhangpo, and there are several monks in each temple who are chanting. The environment is quiet, and the Buddha statue is filled with the taste of Tibetan incense. One of the palaces is magnificent, and the wall about four meters high extends forward, and the entire wall glitters like gold.
When you come to Norbulingka, you will know that the Snowdon Festival is a very important festival in the hearts of Tibetans. Men, women and children sing and laugh, and dance. Everyone looks so happy there.