When she is not occupied with journeying around the world or updating her Weibo with the captivating sights she encounters on her travels, AsiaTravel's founder, Mei, thoroughly enjoys exploring the outskirts of greater China, whether it means running a marathon in Inner Mongolia or trekking up the boding hillsides of Guizhou. Traveling luxuriously is one thing, but traveling luxuriously in style is another. For us at AsiaTravel, it is no surprise that Mei has effortlessly mastered both.
Whether she is racing along the Erhai Lake in Dali or simply on a treadmill at her local gym, Mei's iPod nano is always by her side. Lightweight, durable, and reliable, this pink gadget has been her loyal companion on the most memorable runs through some of the most remarkable backdrops. So what are a few of the top hits on Mei's track list? Not the predictable Mozart or Bach. As an avid fan of the latest chart-toppers, Mei's eclectic taste in music ranges from Propellerhead's jazzy beats to Adele's crisp voice. Who says Lady Gaga is only for teenagers? Mei will be the first to admit that the country rock twist added to "Born This Way (Country Road Version)," along with the pop star's strong vocals, are indispensable when running through nature's most beguiling wonders. Besides, for those of you worried about getting lost amongst the monumental mountains of Abujee, the refrain will reassure you that you are in fact "on the right track."
Not only does Mei have the perfect 'pump-up' track list for her run, she also looks très chic while doing so. From running shorts to racerback tanks and even socks, Mei is an avid fan of Lulu Lemon, an athletic apparel company whose lush lightweight fabrics ace the founder's tests for functionality and durability. The racer back's body-skimming fit is flattering and the top is so comfortable that you won't ever want to take it off, even in exchange for your pajamas. With its loose fit, the featherweight "Light as Air" running shorts will help you "fly without taking off from the ground." For the perfect amount of sun protection, Mei recommends the Adidas Adizero Sequence Hat, which, with its ClimaCool ventilation, will keep you cool, dry, and stylish all-in-one. For the winter months, check out a brightly-colored North Face Goretex Jacket to keep warm. Windproof and waterproof, nothing will ever get in your way from exploring Mother Nature ever again. Whoever said workout gear wasn't fashionable?
An ardent runner, Mei knows from personal experience that the key to a great run is all in the sneakers. She loves the functionality of her Adidas Adistar Salvaation 3 , which helped her spring to the finish line in a recent marathon in Inner Mongolia. With its reliable support and cushioning, these sneakers are comfort and durability at their finest. With such a great pair of shoes, you are bound to get compliments while running in style. For hiking, Mei recommends Asolo's indestructible hiking boots, which are perfect for trekking along the Tiger Leaping Gorge in Yunnan in either rain or shine.
Want to give your lips a whole lot of love? Mei recommends Burt's Bees Pomegranate Lip Balm, which will hydrate and revitalize your thirsty lips with antioxidant-rich pomegranate oil. Best of all, it smells absolutely delicious! L'Occitane's best-selling crème is a classic, one of Mei's go-to items. Even after an adventurous day exploring the high mountaintops of Gaoligong in Yunnan, this buttery cream makes her hands feel soft and luxurious.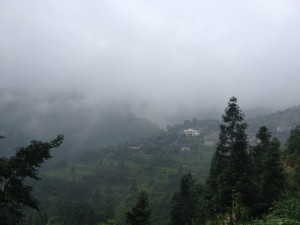 What are some other necessities that Mei always keeps in her bright red, versatile REI Flash 18 Pack? Weighing in at almost nothing, this affordable and durable daypack is ideal for short hikes away from camp. It comfortably fits all of Mei's essentials, from her impact resistant Camelbak water bottle to her handy dandy travel-size Purell Hand Sanitizer, which Mei admits, has collected as many mileage points as she has. Regardless of whether or not she is traveling by herself or with her kids, sunscreen is a must on Mei's checklist. She loves the one from Shisedo, which not only boasts an SPF of 60+, but is also non-greasy and odor-free. To reenergize, Mei recently discovered the Dali Bar at Salvadore's Cafe in Kunming, each and every one hand-made by locals. Consisting of a mixture of sunflower seeds, honey dates, oats, and walnuts, this bar is not only delectable, but also, full of nutrients. Who ever said healthy couldn't taste good?
Whether it be luxury travel in China, chart-topping music, or the latest fashions, AsiaTravel's founder Mei is on top of it all. How does she pamper herself post-travel? Mei loves to relax while taking a bath using some aromatic Hongjintian Bath Salt with a cup of her favorite Longjing Green Tea by her side. With a fashionista as its founder, AsiaTravel is not only a front-runner in simply luxury travel, but rather, luxury travel in style. Even Harper's Bazaar is impressed!
———-
Check out Mei's Weibo (@yunnanzhangmei) and Twitter for some more travel trips from the best of the best and like us on Facebook for constant updates on the latest travels news in China.