The Leshan Giant Buddha is an attraction in Sichuan. The tall image has been deeply rooted in the hearts of the people who have visited there and is the famous Buddha statue in the country. It is very spectacular and worthies a visit. It is not recommended to go to there during the peak season as you need to walk the plank road after all, which is still a little dangerous. The Leshan Giant Buddha was excavated in the Tang Dynasty and was completed in 90 years. The Buddha's hands are put on the knees, and the shape is solemn. The Buddha head is at the same height as the mountain, and it is stepping on the river, with a well-balanced body and a solemn expression. The Buddha is 71 meters high, with a head height of 14.7 meters and ear height of 7 meters. It is 28 meters high from the knee to the instep. The instep is 8.5 meters wide, which can be seated on hundreds of people. There are 1051 spiral coils on the head of the Buddha. They are inlaid with stones one by one. The workmanship is meticulous, and the hair and the head are integrated.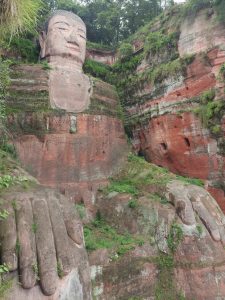 There are many types of tickets for Leshan Giant Buddha. In addition to the entrance tickets, you must buy the rest. You can choose the package according to your own situation. You can choose the panoramic package. The price is around 170 yuan. The old man and the child can enjoy half price or free ticket. If you only buy entrance tickets, the general price is around 90 yuan. It is suggested to be equipped with an explainer as it is more interesting. If you book a car, you can set it with the ticket. There will be corresponding discounts. And it is recommended to buy tickets in advance, because the channel of online shopping tickets is still very fast.
It will take about 2-3 hours to visit the Leshan Giant Buddha, and it is recommended to wear sports shoes to play there as it will be more convenient, and you can bring your own food. In addition, the conditions for eating inside the scenic spot are good, but you need to bring enough water in the summer.