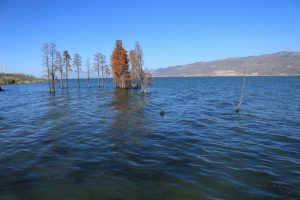 Erhai Lake is located on the east side of the Dali ancient town, at the foot of the lush Cangshan Mountain. The water is blue, and it is famous for its invincible landscape and the unique villages and towns on the lakeshore. "winds of Xiaguan, flowers of Shangguan, snows of Cangshan Mountain, moon of Erhai Lake", are the four wonders of the Dali ancient town. When you come to Dali, you must take your trip to Erhai Lake.
The most famous scenic spots on the Erhai Lake seaside is the double corridor on the east coast. Here you can enjoy the invincible lake view. The sun shines through the clouds and refracts on the lake water. It forms the "God light of the Erhai Lake", with the backdrop of the rolling Cangshan as a background, it is the best shot you want to catch if you are an amateur Photographer. Picking up the camera, coming here to shoot landscapes, it is one of the fantastic things in your life.
Cai Village is the nearest seaside village to the Dali ancient city, and it is on the west bank of the Erhai Lake. Here is the location of the film " flowers in bloom ", the endless fields in the movie, the looming Cangshan and the blue sky in the distance can be found in the village. The distribution center of the Erhai Lake Motor Cruise is also in the village, where you can take a boat trip to enjoy the charm of the Erhai Lake.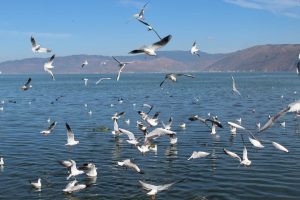 Most tourists who visit the Erhai Lake will choose to ride around the lake. The total length is about 120 kilometers. Bicycles and electric cars are available. If you plan to surround the whole lake, it is recommended to choose an electric car, which is easy and fast. The blue sky is with you along the way, the Erhai Lake is with you, and the scenery along the way is captivating. When you encounter such a beautiful scene, how can you take less pictures? Just pick up the camera, and take pictures of the beautiful Erhai Lake and take a selfie.