Kunming is the latest city to join the ranks of visa-free travel in China. A scheme that has been rolled out to a number of major cities in recent years, the visa-free permit gives the budding adventurer 144 hours (6 days) to touch down in, and explore, a city and its nearby environs. To qualify for visa exemption, you must be in transit from your point of origin to another country besides China. In other words, it must be a layover and you have to have the documents to prove your onward travel.
When you check in for your flight to Kunming, you'll need to let the airline know that you're planning to stay visa-free. Then, when you arrive, follow the "visa-free stay" signs in immigration. You'll fill out a slightly longer entry card than normal, and your 144 hours will begin at 00:00 hours the next day.
Here's all you need to know to get the most out of visa-free travel in Kunming.
Kunming: Visa-Free Travel
Often referred to as the 'City of Eternal Spring' for its temperate climate year-round, Kunming is the capital city of Yunnan province, a lush and culturally diverse region in China's southwest. A major metropolis by any standards, Kunming is markedly more cosmopolitan than the rest of Yunnan province. The city has evolved a bohemian, artsy vibe, with a growing number of independent galleries, cultural centers, and cafés. 
Kunming is also a pretty well-connected city, making travel to and from the area easy. In fact, many AsiaTravel travelers use Kunming as a jumping off point for other parts of Yunnan, as well as a welcome addition to travels through Southeast Asia.
Photo by Fuchsia Dunlop
Kunming Visa-Free Travel: Where to Eat?
As you'll be staying within the city limits for the duration of the 144-hour visa, we're sure you'll be dying to know all the best eateries and hangouts that show off the best of what the region has to offer. Making its way onto Fuchsia Dunlop's Yunnan Gastronomic Tour for very good reason, Kunming boasts a burgeoning culinary scene, combining Chinese tradition with the spices and exoticism of Southeast Asia. While mushroom hotpot is something of a specialty in Kunming, you'll find delicacies at every turn with restaurants to match. A firm favorite of ours is the ancient Shiping Hall (石屏会馆), where you can enjoy chili fish in a beautiful traditional courtyard – the restaurant itself is 300 years old. Alternatively, head over to the 1910 South Train Station (1910 火车南站) to sample a more modern twist on Yunnan cuisine.
Top tip: Yunnan is China's center of coffee cultivation, and many of Kunming's cafes use local beans. Be sure to try a cup (or two) as you explore the city.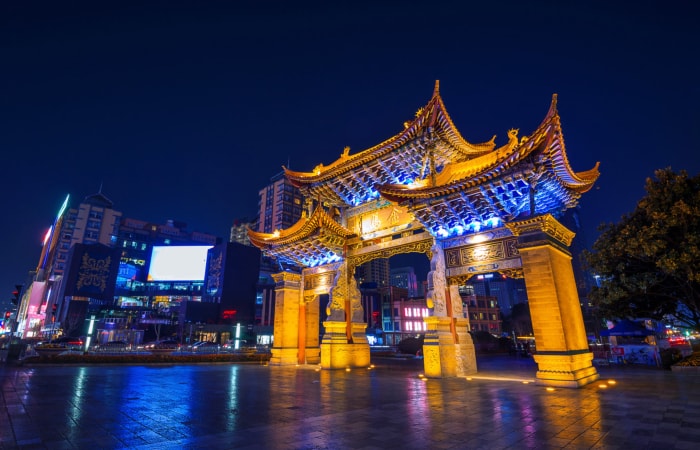 Kunming Visa-Free Travel: What to Do?
With bellies satiated, what should you do in Kunming? Well, when you're not filling up on tasty treats or enjoying the natural feel of the city, why not jump on the cable car and head up Sleeping Beauty Mountain where you will be rewarded with stunning views and the chance to see Dragon Gate, a collection of beautiful temples jutting out of the cliff face.
Sticking with the rocky theme, Kunming's Stone Forest is well worth a visit too, boasting impressive limestone formations. But, be warned, the early bird catches the worm with this one, as it is a firm favorite amongst domestic tourists.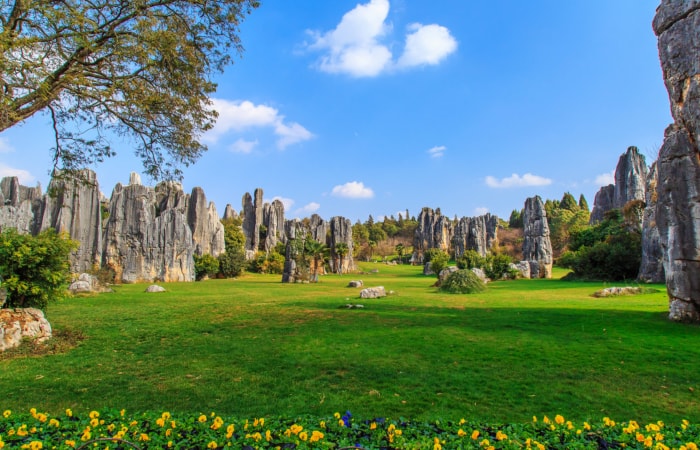 Kunming Visa-Free Travel: Where to Stay?
And finally, where to rest our weary traveler heads? A city that is laced with the beauty of nature throughout, there are plenty of choices when it comes to finding a room with a view in Kunming. Our personal favorite is the Green Lake Hotel. While the clue is in the name, this hotel boasts great views over Green Lake Park, as well as enjoying a prime location within walking distance of Kunming Old Town, and more restaurants and cafés than you can shake a stick at. It has all the modern conveniences and services you'd want, including a swimming pool to relax in after a long day of soaking up the sights.
—
So, if it's a lengthy layover you've found yourself with, or you are on the hunt for a trip extension with a bit of a twist, consider Kunming – a vibrant destination with none of the visa hassles.