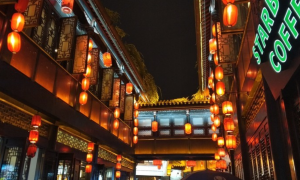 Come to Chengdu, you must come to Jinli, otherwise you will lose a lot during your trip to Chengdu! In this street, it condenses the essence of Chengdu's life: there are tea houses, inns, restaurants, bars, drama stage, snacks, handicrafts, and souvenirs, which fully demonstrate the unique charm of the Three Kingdoms culture and Sichuan folk customs. Here, I want to say to those who still are hesitant to have a trip to Jinli Old Street: If you want to come, come on, let's go on a trip to Jinli Old Street! Drinking tea is probably the favorite pastime for Chengdu people. There are also teahouses in Jinli, and there are many people. The main street in Jinli sells Sichuan handicrafts, and there are two ways to go inside. On the left it is the snack street for food, and on the right it is the bar inn.
Shopping here will always have a feeling of lingering, and it also brings together Sichuan's very famous snacks. If you haven't had a big meal for a long time, then come to Sichuan Jinli, you may want to eat it once in a hurry.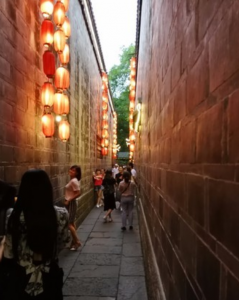 Some of the items sold in the store are chopsticks, tea, lanterns, silk quilts and native products. The food in the restaurant has beef pot helmets, fat sausage powder etc. A lot of people are attracted by the taste. It is not fancy, with no gimmick, and it is affordable. There are also craftsmen's stuff there: pinching a clay figurine, turning a sugar painting, buying a piece of paper-cut, all of which contain childlike things, and nostalgia is also a joy to remember childhood simplicity.
The colorful lanterns and scorpions in a street are popular, and the picture is a lively one. The most attractive thing on the street is the way of life. The old ones and the young people smash melon seeds and play cards in the bar, drink foreign wines., and they all enjoy themselves there.