Here at AsiaTravel, we are passionate about helping clients to deep dive into an area of interest. To do this, we work with a number of experts in their fields to create specialized trips and guided lectures. One such expert is Dvir Bar-Gal, the leading authority on Shanghai Jewish history.
2018 marks the 20th anniversary of the Shanghai Jewish History Tour, a project Dvir has been guiding the growth of for the past 15 years. We caught up with him to learn more about how he became involved with Shanghai Jewish history and what he hopes to share with visitors to Shanghai in the future.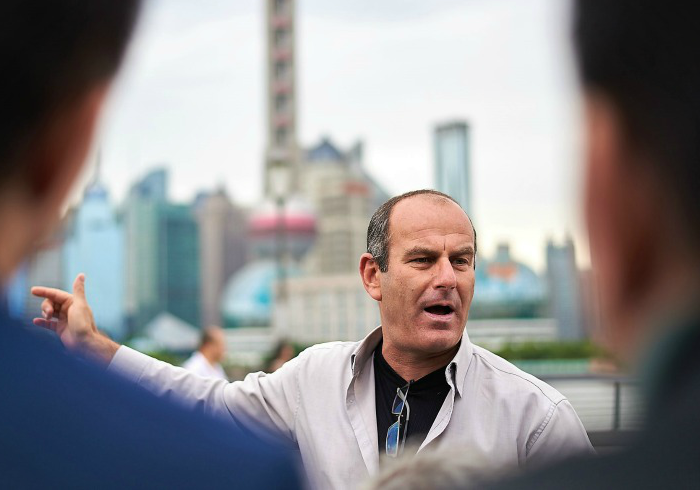 Dvir Bar-Gal 
RELATED READING: The 4 Best Cities for Jewish History in China
China Jewish History Tour – Dvir Bar-Gal
What made you want to take part in this project?
I actually came to Shanghai hoping to be a freelance television journalist. Before working here, I used to work in Israeli television as a cameraman and then director. From about 2000, 2001, there was no representative of electronic media for Israel in China, and I already realized then what was going to become of China in the coming decades. I was interested in the untold stories of the people who live here.
Unfortunately, the time I came was around September 11th. After September 11th, 2001, there wasn't much interest in stories from China, so I started doing a lot of other things.
One of the things I started was a big research project, finding the lost Jewish cemeteries of Shanghai. I was working with the woman who gave the tours before me. She actually brought me the story about the cemeteries that had disappeared and the news that people were looking for them. We found a lead from a teacher who saw some Jewish gravestones and from there we started our research. This was my first involvement with Jewish research and I learned so much. The story is pretty much unknown so I learned a lot by doing the historical research and looking at it from a journalistic point of view. It was about a year and a half later that the previous person in charge went back to Israel and she asked me if I would like to help out with the tours. I have been doing it ever since.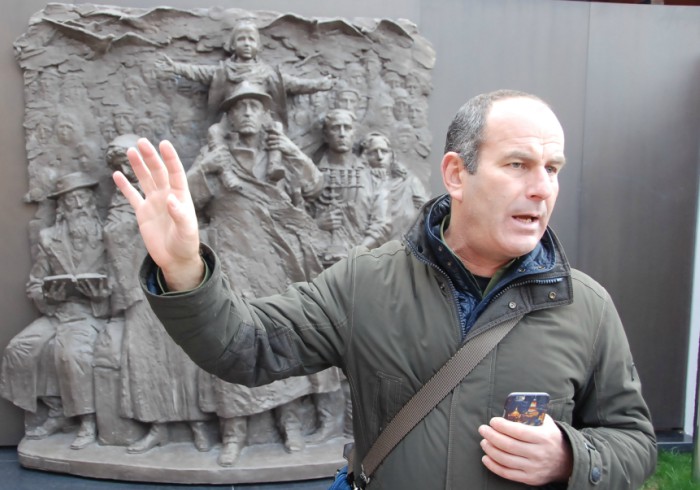 Sculpture Commemorating Shanghai's Jewish Community
RELATED READING: 5 (Alternative) Must-Sees in Shanghai
China Jewish History Tour – Dvir Bar-Gal
How many tombstones have you been able to locate up to now?
I located about 105 out of over 3000 that used to be in Shanghai in the past. Most of them I collected, and all of them I documented on video and film. I'm still hoping to do a long documentary about the whole story. Still photography, text, and so on. Currently, there are about 90 that I know the whereabouts of and most of them are in my possession. Many others we have lost forever, unfortunately.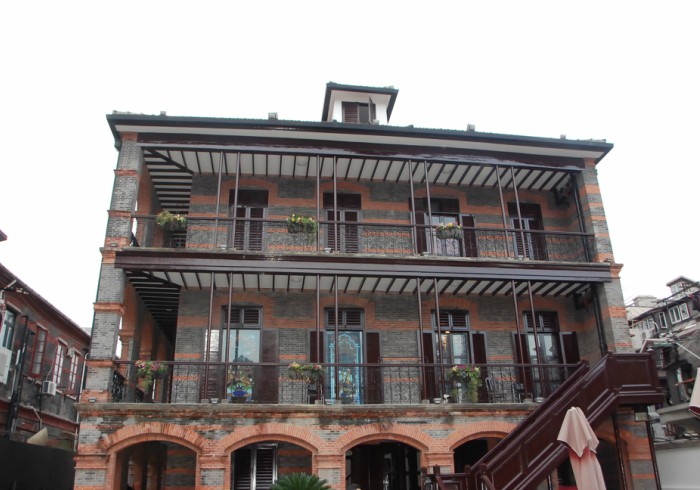 Shanghai Jewish Refugees Museum
RELATED READING: Fascinating Sites of World War II History in China
China Jewish History Tour – Dvir Bar-Gal
What can people expect on a Jewish tour of Shanghai?
The tour is a half-day tour, and it's different from many other tours that one can think about. We mostly learn and hears stories that nobody else can provide.
We explore mysteries that are infrequently seen in daily life today, as many were destroyed or the people left, and so on. But the stories that they left behind and the legacy are what I'm trying to revive through images and the stories that I tell to people. My tours are almost a four-hour long lecture that happens in different places around the city.
We normally begin with the first Jewish community, the Baghdadi Jews, who came to Shanghai in the 19th century. Although they were a very small group of people, they became so influential and wealthy that, basically, one can not underestimate their influence on the development of the city of Shanghai and the legacy that they left behind. Almost an hour into my tour I'll still be talking about the Baghdadi Jews. That happens mostly on the Bund, the Shanghai riverfront. Many of the landmark buildings from the past were built by the Baghdadi Jews.
Street View of Old Jewish Ghetto
Then we often travel to the area called the Hongkou District. At this point, I'm talking about going from luxury and wealth to the poorer neighborhoods of the city. These neighborhoods hosted two different Jewish communities. The first, in the early 20th century, were Russian Jews who escaped persecution in Russia and made it to Shanghai. They were a bigger group than the Baghdadi Jews and since they were running from persecution, they settled in the cheaper areas of the city.
That happened at the beginning of the century and lasted until around the time of the communist revolution. The Hongkou area was basically immigration neighborhoods like the Lower East Side in New York or the East End in London. A place that saw immigrants coming to begin their new life. When they were able to make it, they moved to the French Concession, most of them. You can see it clearly there like it happened in those other places. People coming and starting their lives, many times at the bottom, and working their way up.
A third group of Jewish people then came and flooded the area, who were the Jews escaping the holocaust. They were a massive group of people, about 20,000 of them. During the tour, people often ask why Shanghai was the one city in the world that remained an open port for people throughout most of the Second World War. In that area of the city, there is a monument that the government directed to have built; we walk through the old lanes where the people used to live, and we go to the museum. It's a government museum; it's not run by Jewish people, but the Hongkou district is in charge it.
I take them inside one of the dwelling houses that used to be owned by Jewish refugees – now a Chinese family is living there. We'll see the poverty in which the Jews used to live, and also see the Chinese experience today. For many people, it is a very powerful, emotional kind of visit to see how people actually live in those kinds of places. So, you can say that the tour is going from ultra luxury to deep poverty.
There must be a lot of interesting stories along that tour. Is the clientele mostly Jewish?
The nature of the tour is Jewish, so naturally most would be Jews, but probably between 25-30% are non-Jewish. That group are usually history buffs. Many times the most heartwarming feedback I've received is from non-Jews. I heard maybe 3 years ago, a lawyer from America said that she thought the greatest things she did in China was take the Jewish tour.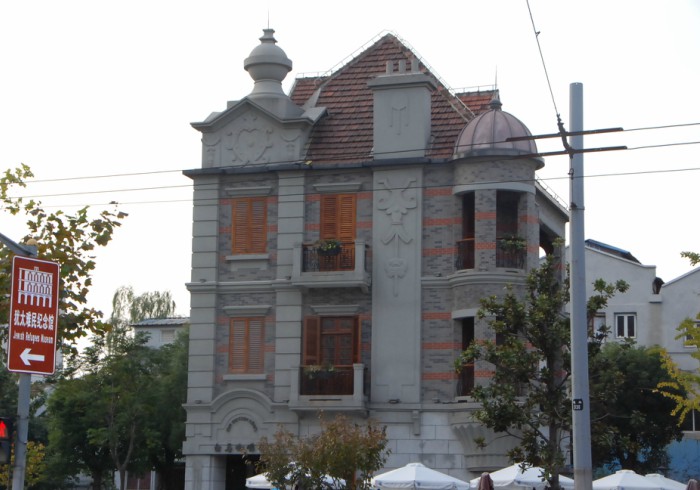 Replica of White Horse Inn 
On your tours, what is something you hope travelers will leave with?
A sense that there was a great story into the unknown, and that they've discovered something that they will not get anywhere else. We try to show and to tell something that one might otherwise miss if they were not looking for the story.
What is your vision for the tour? Where do you want to take it?
I would like to keep going with more people. I hope that more students come along for the story, and maybe also locals who can't speak English. The world is very big and has a lot of people. More and more people come, learn the story, and appreciate the historical connection between Jewish people and Chinese people, and the fact that this city has a marked lack of anti-semitism that others can learn from. I am hoping that people will learn from that and remember the day that they had this experience in Shanghai.
–
Thanks, Dvir! If you're interested in taking a Jewish history tour of Shanghai with Dvir, AsiaTravel can arrange it for you. You can dive deep into the Jewish history of all of China on our Jewish History Tour.
We also work with a number of other experts in Shanghai. Jade Ma can guide you through the city's contemporary art exhibitions and Shanghai history expert Patrick Cranley can take you on a walk down one of China's most historic riversides. No matter what your interest, we'll find the best experts to help you make the most out of your trip.