Bill Bleisch has been involved in environmental efforts in China and its neighboring countries for nearly two decades. One perennial focus of his work has been the way in which habitat loss stemming from patterns of resource management, industrial development, and environmental degradation has contributed to the rapidly declining state of wild gibbon populations. Once abundant throughout Southeast Asia, this family of apes has become critically endangered. Unfortunately, while much international attention has been given to other endangered animals,  very limited resources have been mobilized in the effort to protect these primates from extinction.
In his efforts to spread awareness about the existence and peril of southern Yunnan's black-crested gibbon, Bill Bleisch spent time exploring their remaining habitat in Xishuangbanna, Yunnan. In 2012, he received a AsiaTravel Explorer Grant to continue this research in hopes of establishing a trekking route through the Ailaoshan mountain range.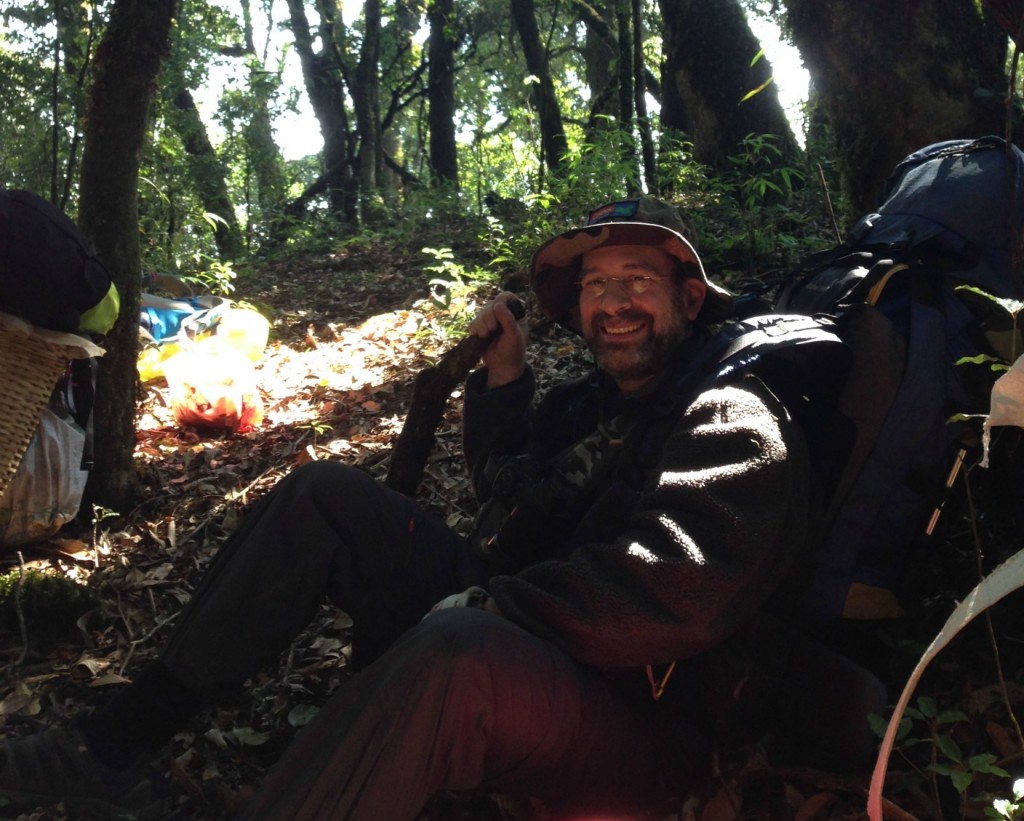 Bleisch on the trail  
How did you first become interested in China?
Like many American kids, I was first introduced to China through the food.  My mother taught my sister and me to use chopsticks whenever we went to a Chinese restaurant.  People in China ask me how I learned to use chopsticks and I explain that my mother taught me.  Then I have to explain that she is not Chinese.  Later, she took a Chinese cooking class and we used to go to the Oriental market and gawk at all the interesting delicacies.   I had a collection of miniature figures from China – a fisherman, a nine-eaved padoda, an arched bridge, two scholars playing weiqi.
Later, when I was about 12, my father and I made a deal that I could stay home from Sunday school at church as long as I spent Sunday morning reading religious texts.  I happily agreed.  I read the Dao de Qing, the Analects of Confucius, Mencius, the Book of Changes, the Book of Songs,…   I took a Chinese course one summer, but it was too difficult.
It was not until I finished graduate school that I had the chance to come to China.  I received a grant from the Chinese Adventure Capital Fund, a fund managed by the Durfee Foundation and set up in honour of R. Stanton Avery, the inventor of the stick-on label, who had previously travelled in China in 1929 as a young man.  His family wanted others to have the chance that he had had to see China first hand.  I came to China in 1987, to survey gibbons in the Ailaoshan and Wuliangshan Nature Reserves.
Scouting a route along the ridge of the Ailaoshan range
What was the goal of your expedition in Yunnan's Ailaoshan region?
My personal goal for these recent trips sponsored by AsiaTravel, has been to bring something back to the Ailaoshan and its gibbons, 26 years after my first visit.  I had the idea that a trekking trail through gibbon habitat could increase public interest and commitment to protecting the gibbons and reconnecting their forest habitat.  The idea of a long trail in China came to me while my son and I were hiking the Appalachian Trail, which is a long trail along the ridge of the Appalachian Mountains.  The AT, as it is known, was started by local hiking clubs, but is now a National Scenic Trail managed by the National Park Service.  I know that there would be interest in such a trail in China if could be opened. So the goal of the four trips this year was to map out a stretch of trekking trail and start building local support for the idea of a long trail on the Ailao Mountain ridge.
What role does exploration play in spreading awareness about social and environmental issues?
I think exploration, at its best, has always been the key to building awareness of the world beyond our own everyday lives.  European explorers brought back the news that China had an advanced civilization in the 13th  century.  Later, it was the  explorers that convinced people that the world was round, not flat.  In this century, opening people's eyes to the environmental and social problems that exist in remote rural areas is one of the best things that exploration can do.  That's why a real explorer must also be a good story teller – either through written word, photographs or film.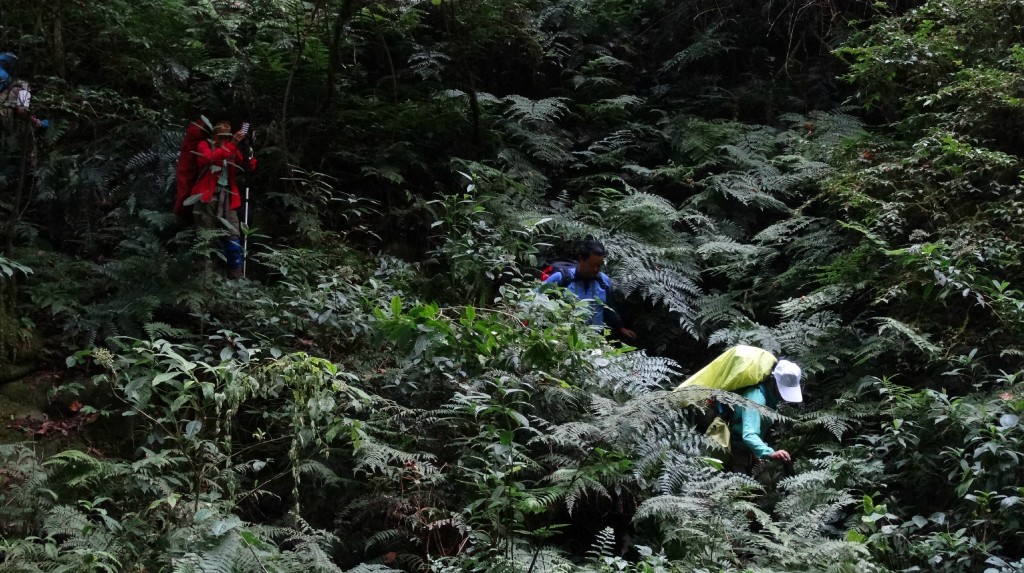 Bill and his team blaze a trail through the forest  
How would a new trekking trail contribute to the preservation of the black-crested gibbon's habitat?
I have to tell you that this is controversial.  There are those who are dead-set against opening any habit of endangered species to tourism. There is certainly good evidence that noisy tourists inside nature reserves scare wildlife away from heavily used tourist trails.  That is why the Ailaoshan National Nature Reserve is still officially closed to tourism.  (We work with the Xing Ping Provincial Ailaoshan Nature Reserve for now.) There is another view, however.
Nature reserves need support, both from local people and from the general public. The reserves have a hard time winning that support unless people have first hand experience of benefits.  Trekking by well-informed hikers is a gentle form of tourism that can build that support.  Just look at the passion with which people fought for the completion of the Pacific Crest Trail and its protection in the USA.   Trekking can  also provide direct benefits to local people in remote areas, something they do not see from big hotels or scenic hot-spots.  Local people can sell food and supplies along the trail, or open a nongjiale-style hostel.  Also, in provincial nature reserves, which have little funding, trekkers can serve as the eyes and ears of the nature reserve, reporting illegal hunting or logging that they find inside the reserve.  Their very presence can be enough to scare off poachers.  And experience in the USA has shown trekkers will fight to have protection extended beyond the boundaries of the nature reserves, many of which are too small and isolated from other natural forest.
But it can do more than that.  The trekking movement also taps people's desire to get bck to our roots, back to basics, back to the wildness.  On a trek, you learn very quickly how to get along without many of the luxuries that we take for granted.  If you don't really need it, you don't carry it.  Eventually you ease into a new standard of comfort and start to find joy in the simple beauties along the way.  Many even find a kind of spiritual fulfilment on a long trek.  Tibetan pilgrims do these long walks regularly, Europeans called it the "pilgrim way," native Americans called it a spirit walk. Perhaps in this is part of the antidote to the pointless conveyer belt of consumerism that is driving unsustainable development, global climate change, and senseless destruction of wildlife habitat.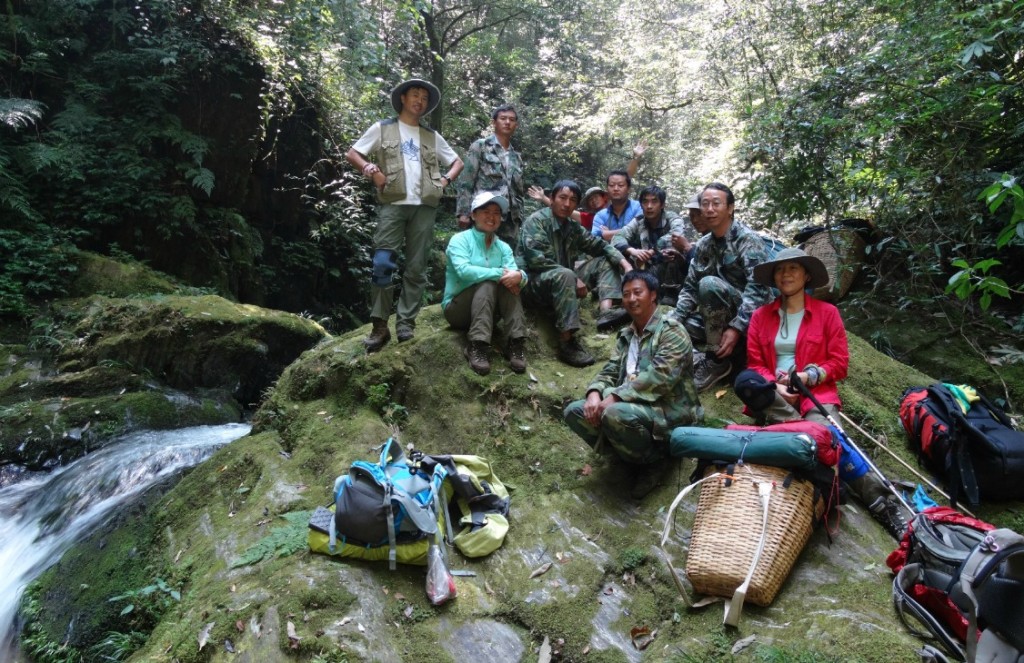 The group rests by a cascade  
What other efforts are being made to help these primates recover from the brink of extinction?
Many people deserve a great deal of credit for turning things around for primate conservation in China over the last 25 years.  The State Forestry Administration and the Yunnan Provincial Forestry Bureau, and especially the staff on the ground – the nature reserve staff and also the poorly paid and poorly equipped forest guards (hulin yuan) – they are often the real heroes in primate conservation now.  Field researchers, mainly Chinese scientists, have contributed a great deal.  NGOs have also made a big contribution.  They all work together now.  For example, my friend Professor Jiang Xuelong and his students, with support from the China office of Fauna and Flora International, have worked with the nature reserves in Ailaoshan to carry out a complete census of the gibbons there and develop an action plan for gibbon conservation.
All of these efforts are adding up, but there is still more that needs to be done; to protect and restore the forest habitat, and to rebuild forest connections between isolated groups of gibbons, so they can find suitable mates and pair up to breed.  Some of that work must be done outside of nature reserves, and that means that local people and local government must be more involved.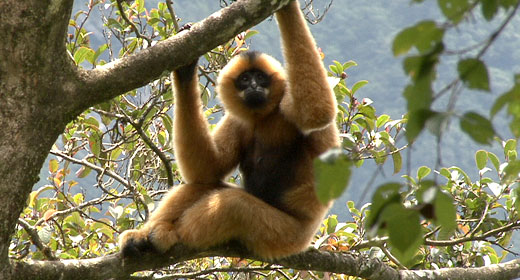 Western black crested gibbon (Photo Credit: Flora and Fauna International)  
Have you been involved in any other conservation efforts outside of southwestern China?
WVB: I have had the great good fortune to work in over 25 nature reserves all over China, in Yunnan, Sichuan and Guizhou, Guangxi, Fujian, Hunan, Hubei, Hainan, Qinghai and Xinjiang.  I have also worked in Vietnam, Myanmar, Lao PDR, and Malaysia at one time or another.  I have been part of teams for conservation research on the Grey Golden Monkeys in Guizhou and the Tibetan Antelope in Xinjiang, but most of my work has been helping local nature reserve staff to develop their skills and to write their own management plans.  That includes helping them to focus on the conservation problems that need the most attention.
What's next? Do you have any upcoming adventures planned?
There are so many exciting things that need to be done, and I hope I have time for them all.
Right now I am on my way to Luang Namtha in Lao PDR were we have started a project designed to answer the question I posed above – is trekking tourism good for wildlife conservation, or does it just scare the animals away?  I think it may help. Lao is a very poor country that cannot afford the kind of patrolling that China has, so tourist guides and trekkers may be the best defence the animals have there.  The trekking companies provide payments to the villages, which should be an incentive to keep the forest intact.  Most of the trekkers are from Europe or the USA. They are not usually so noisy and they do not ask if they can eat the animals that they see.
I will be back in Yunnan for the official launch of the Ailao Shan Trail in Xing Ping County on November 26 – December 1.  Of course I want to hike the complete Ailaoshan Trail as soon as I am given the chance.  And I want to see it extended, to Dali in the north, where it can connect with the Ancient Tea Horse Trail, and to the south along the spine of the same ridge, where there is more gibbon habitat, but where much forest needs to be restored.  Those are Hani and Lahu minority areas, so very interesting culturally.
I want to be a part of mapping out the trail, and to hike as much as I can.  Perhaps eventually the trail and the forest can stretch all the way from Dali to Feng Shui Lin Nature Reserve and the Vietnam border.  Then China would have a National Scenic Trail to rival the famous long trails in the USA; the Appalachian Trail and the Pacific Crest Trail.  I may not live long enough to see the trail completed, but now I am sure it will happen.
Bleisch has been the Chinese program director for Flora and Fauna International, which works to protect some of the most endangered species in the world. He also spent time as the program director of The Bridge Fund, which works to improve the lives of Tibetan communities through their support of various educational, environmental, cultural, and economic initiatives. Now, as program director for the China Exploration and Research Society, he continues to promote the cultural and environmental protection China's minority regions. 
Don't forget to apply to the 2014 AsiaTravel Explorer Grant for the chance to win $3000 of funding for your own Chinese adventure!