Goldfish, birds, toys, clothes and electronics – there seems to be a street in Hong Kong for just about every type of commodity you might need. Inside the checkered warren of the city's lanes you will find many great bargains, and interesting slices of local life. Here are some to visit during your next trip to the city: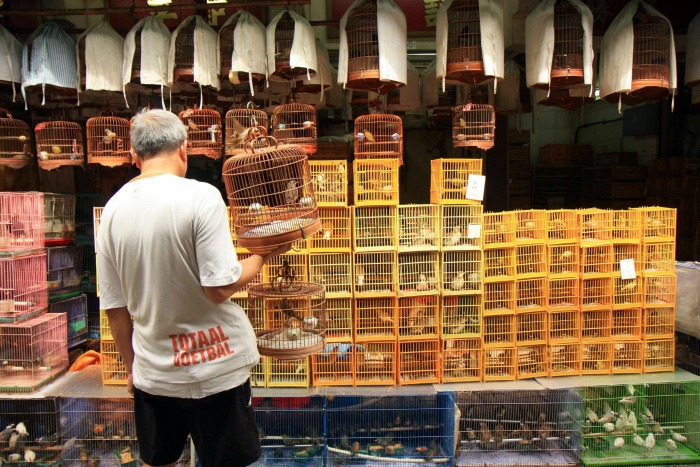 Photo by Barney Moss via Flickr
Southern part of Hong Kong Island
Stanley Market
Address: Hong Kong, Stanley, Stanley New St, 赤柱赤柱大街
Set in the seaside town of Stanley on Hong Kong Island's south coast, Stanley Market is known for its huge selection of bargain clothes, inexpensive Chinese knick-knacks and household goods. At its Western end is Tin Hau Temple. Built by the notorious pirate Cheung Po Tsai in 1767, it remains one of the oldest temples in Hong Kong. An easy 25-minute walk takes you to the beach, where bars, pubs and restaurant line the waterfront.
Opens 10am to 5pm daily.
Yau Ma Tei, Kowloon side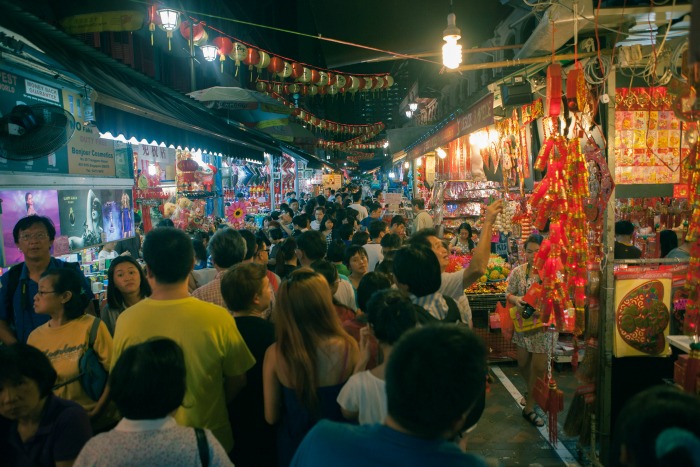 Photo by Daniel Chodusov via Flickr
Temple Street Night Market
Address: Temple Street, Yau Ma Tei, Kowloon
Few places in Hong Kong are livelier than Temple Street, a popular street bazaar named after the Tin Hau temple at its center. Stall vendors lay out their wares every night from as early as 4pm, selling trinkets, watches, electronics, leather and menswear. While the stalls are mainly aimed at locals, the market's popularity with tourists has driven prices up, and you might find better deals in the shops hidden behind the stalls. Fortune-tellers, street doctors, impromptu performances of Cantonese opera and the clack of mahjong tiles further add to the festivity of the market.
Opens 5pm – 11pm daily.
Jade Market
Address: Junction of Kansu Street and Battery Street, Yau Ma Tei, Kowloon
Halfway between Yau Ma Tei and Jordan on Kansu Street is the Jade Market, two solid blocks of flea markets and shops selling everything from high quality jade jewelry and figurines to glass trinkets. Genuine jade can range in color from milky white to a beautiful deep green. Another common hue is a cream color with brown or yellow flecks. Be careful about imitation jade at the market and always start with a bargaining price about 50% of what the vendor offered. The more eager he is to give it away the more you should suspect it is not the real McCoy.
Opens 9am to 5pm daily.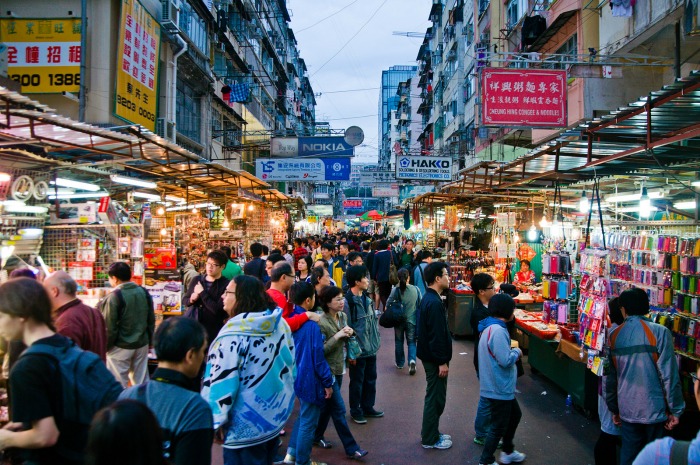 Photo by Mitch Altman via Flickr
Mongkok, Kowloon side
Ladies Street
Address: Tung Choi Street, Mong Kok, Kowloon
This market on Tung Choi Street boasts over 100 stalls of bargain clothing, accessories and souvenirs across a one-kilometer stretch. More popular with tourists, prices here are comparatively higher than other markets. It does offer plenty of haggling fun for cheap souvenirs, 'I Love HK' t-shirts, accessories and other curios. Fashion here is often more "auntie" than trendy.
Opens 12pm to 10pm daily.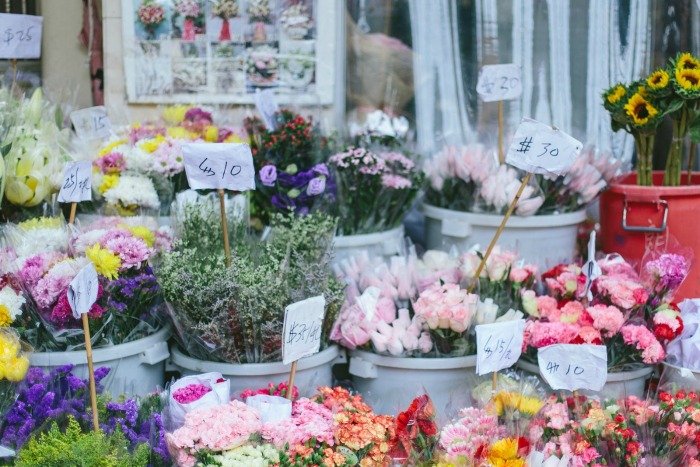 Photo by Geneva Vanderzeil via Flickr
Flower Market
Address: Flower Market Road, Prince Edward, Kowloon
Immerse yourself among the exotic blooms and scents of Hong Kong's Flower Market. The 50 or so shops and wholesalers get especially busy during the period before Chinese New Year, as families flock towards the market to buy auspicious flowers and plants for the new lunar cycle.
Opens 7am to 7pm daily.
Bird Market 
Address: Yuen Po Street, Prince Edward, Kowloon       
Designed in the charming style of a traditional Chinese garden, the Yuen Po Street Bird Garden is a pleasant place to witness the old Chinese hobby of bird-keeping. Elderly men gather here, carrying their their feathered friends in intricately crafted bamboo cages. Sweet birdsongs ring out from the stalls selling exotic birds, porcelain water dishes and other related paraphernalia.
Opens 7am to 8pm daily.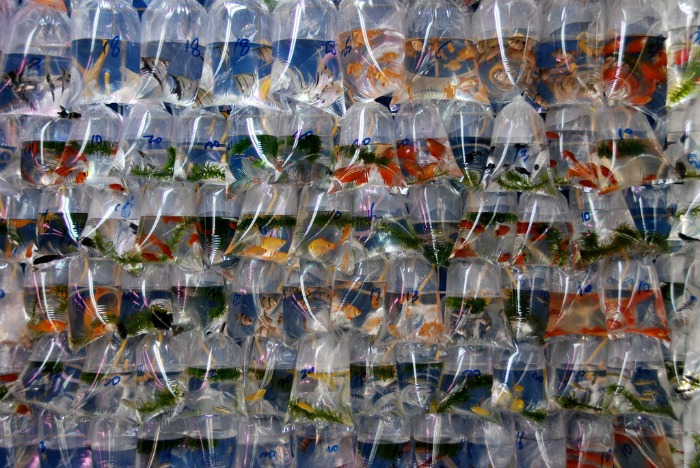 Photo by Rob Web via Flickr
Goldfish Market
Address: Tung Choi Street North, Mong Kok, Kowloon
Locals head to the Goldfish Market to buy luck-bringing goldfish, aquarium pets, corals, aquariums, and aquatic ornaments. It is common to see oxygen-sealed plastic bags of goldfish (and other weirdly shaped ones) hung on racks and ready for sale.  You'll also spot a few amphibians and reptiles crawling about.
Opens 10.30am to 10pm daily.
Shanghai Street
Address: 312-343 Shanghai Street, Yau Ma Tei, Kowloon
Shanghai Street is one of the city's oldest thoroughfares; a walk here gives you a glimpse of disappearing Hong Kong, of old Chinese opera houses and beautifully preserved shop-house buildings. It is also a great place to buy affordable kitchenware including handcrafted items like sandalwood fans and bamboo steam baskets used for dim sum usually sold in family-owned shops.
Opens 10am to 10pm daily.
Sham Shui Po, Kowloon side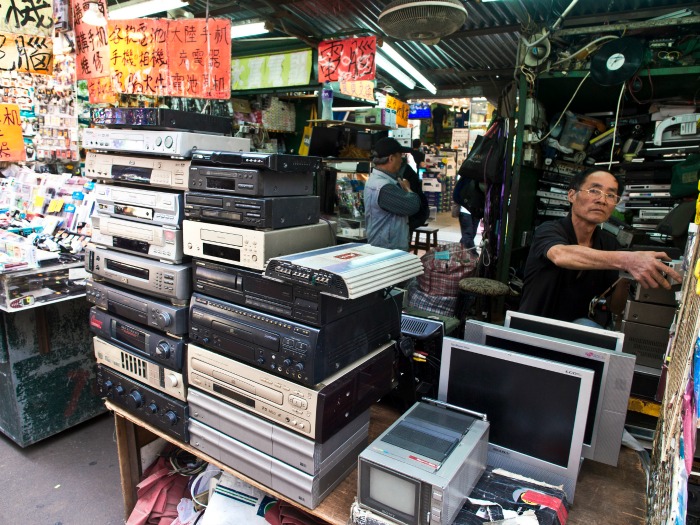 Photo by Marcel Druck via Flickr
Apliu Street
Address: Apliu Street, Sham Shui Po, Kowloon
In the heart of Sham Shui Po, vendors at the popular street market sell new and second-hand electronic devices, audio-visual equipment and telecommunications products at bargain prices. Tip: Check the voltage and plug/socket of the item for electronic compatibility.
Opens 10am to 10pm daily.
–
Excited to venture out and explore the vibrant markets of Hong Kong? Book AsiaTravel's Hong Kong: Pearl of the Orient tour.