This note was written by Devin Corrigan, a AsiaTravel tour leader & travel consultant who traveled to Mount Haba on an educational trip last fall. Previously, he blogged about the fascinating lore associated with the mountain, the lively and diverse atmosphere he found in Haba village, and a snapshot of the local eats he had while on the trail. To finish this series of posts, he has put together a photo essay that gives a comprehensive look at 4 spectacular days spent on the mountain.
———-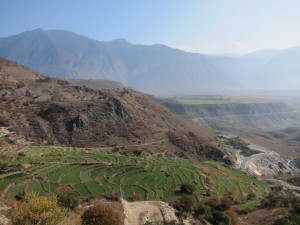 One personal highlight of the trek for me was pulling away from Tiger Leaping Gorge, advancing towards the plateaus, terraces, and valleys beyond, and then watching it all grow tiny as I made my way towards Haba. With this varied and dramatic landscape shrinking behind me, the scene took on a surreal quality, as if I were peering down at a giant topographical map.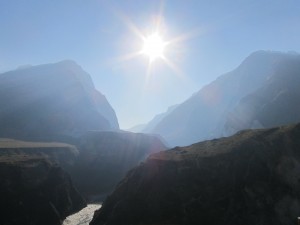 What's more grand than watching the Yangtze River pound its way through one of the world's deepest gorges? Not much.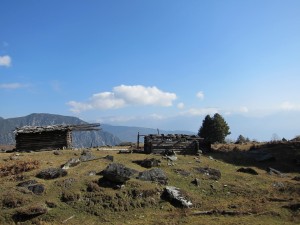 There's something to be said for trekking out into areas remote enough that they are completely devoid of any signs of civilization. But I liked running into these wood-storage sheds; reminders of humanity, yes, but with no indication as to which century we were in.
It's stunning how much you can see from the top of the Haba summit: the three sacred mountains of Daocheng in Sichuan, Mt. Kawa Karpo on the Tibetan border, and countless other peaks stretching in every direction. My favorite view was Haba's neighbor (and brother), Jade Dragon Snow Mountain (5,596m). The mountain sat just to the southeast, with the day's nascent sun rays streaming over the massive Tiger Leaping Gorge below.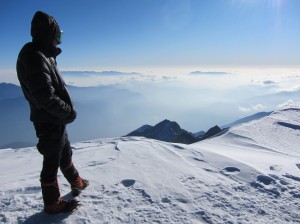 The experience of standing atop Haba can't quite be put into words. I'll just say that the feeling of walking halfway up to the cruising altitude of a 747 is one I won't soon forget, and it says something that Xiao He, my guide, still pauses to silently soak in an experience he's had hundreds of times before.
To my mind, there are few emotions more primal than waiting for the sun to come up so you can be warm again.
Black Lake, at 4,200 meters, is true to its name — from the summit, I could see the menacing dark puddle far below. Up close on a clear day, however, it looks like that Yunnan blue has spilled right out of the sky.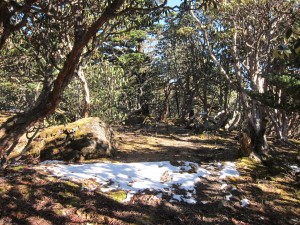 I passed through this stretch of forest after descending from Black Lake. At this point, I've just plunged back below the tree line; all of a sudden my nostrils are filled with pungent pine and my ears the chirping of birds. It was not until then that I realized how effectively the high altitude rid my environment of sounds and smells for the previous two days.
The elderly villagers stroll around Haba, hands clasped, more cracked and weathered than the rocky mountain faces above.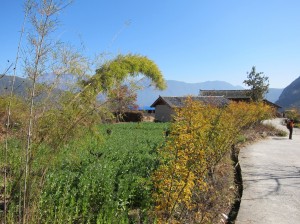 The smell of pine fades, the smell of wood stoves overtakes, and I know Haba village is close. I would not trade my time up on the mountain for anything, but it sure is nice to be back in this warm and hospitable place.
———-
Interested in learning more about climbing Haba? Get in touch at info@wildchina.com.