Check out this on the road experience from AsiaTravel's travel product design manager, Colleen O'Connor, and discover an unknown trail situated deep in Emei's sacred mountain range, just waiting to be explored…by you!
We traveled to Sichuan with one main goal in mind: to find more exciting, adventurous routes accessible for you to Experience China Differently! For today, our destination included a little-known hiking trail along Sichuan's Emei Mountain, one of China's four sacred Buddhist Mountains. The name "Emei" literally translates to "delicate eyebrows," deriving from two of the mountain's peaks—Ten Thousand Buddha Summit and Golden Summit—resembling the curvature of one's brow. On this hike, we planned to follow along Emei's brow into mountainous terrain, bamboo groves, and an isolated temple.
The night before, Rebecca, AsiaTravel's Operations Manager, and I spent the night at the luxurious Anantara Emei Resort & Spa, a recently opened 5-star hotel nestled along the foothills of the Tibetan Plateau. After packing our daypacks, we left the comforts of our spacious double room and scooted along by private cart, passing the resort's outdoor hot spring and colorful flower gardens to the main lobby.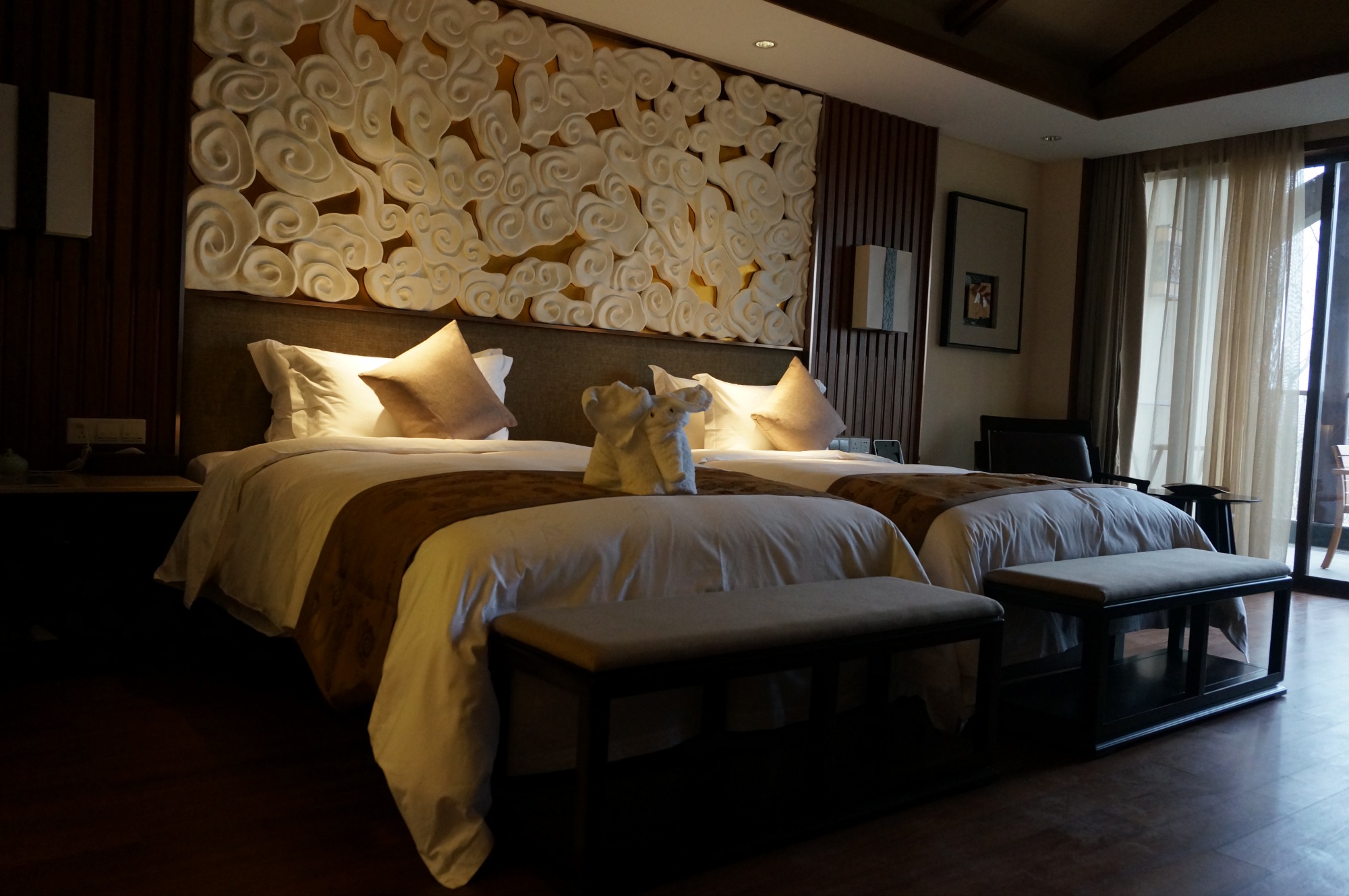 Double Room at Emei Resort & Spa
We met our friendly Sichuan guides at the dining hall for a continental breakfast, boasting a wide array of Western and Chinese breakfast foods. After filling our stomachs, we hopped into an SUV to begin our 2-hour ride through remote villages and twisting mountain roads into the heart of Emei's mountain range. Our first plan of action was to meet our local guide, who would lead the hike.
As the morning mist hovered over the country road, our driver drove slowly to avoid residents walking along the road's edge. Through the window, I saw men carrying plows with dirt still hanging of the metal grips from yesterday's farm work. The women carried empty woven baskets, preparing for a day of vegetable picking…a glimpse of an ordinary morning in rural Sichuan.
After two hours, we ascended one last bend along a cliff face before meeting our guide at a local home. His own home is situated far above in the mountains and inaccessible by road. So, he met us in the middle. He looked into the SUV, with a sweet-smelling pipe in hand, and grinned, "You ge laowai day" "There's a foreigner!"
Mr. Yue, our friendly Emei Mountain Guide
He put his pipe away and jumped in, while guiding the driver through dirt roads along towering cliffs and tiny hillside villages to our hike's starting point, a slow moving river. The car slid to a muddy stop and we stepped out into a valley with a river trailing between the surrounding alpine mountains. After a night of light rainfall, the refreshing scent of wet pine was all around.
We said goodbye to our driver and followed our guide as he hopped as light as a feather over the stones placed in the river, beginning our trek into Emei Mountain. The hike started with a gradual incline to a wooden hut, surrounded by tilled land. Our guide explained that this little farm cultivated a type of root used for traditional Chinese medicine. As we took off our warm layers, the traditional medicine farmer came out of the hut to meet us, striking up a conversation with our guide, who was his close friend and neighbor.
We said our farewells and continued our way into a sea of bamboo groves. Being the end of March, late winter's yellowish green tint took up most of the scenery's color, except for the refreshing and vibrant green bamboo leaves that encircled the trail. Towering pines, shedding birch trees, and tangles of other tree types added to the mountainous flora.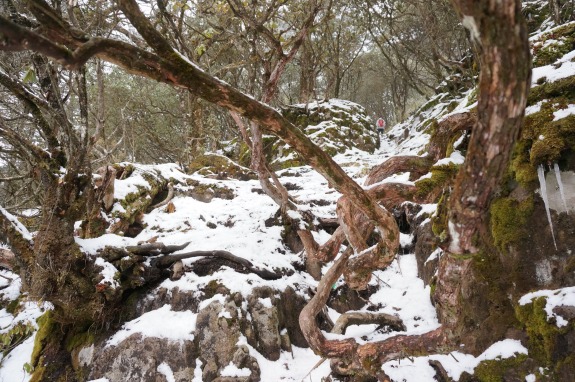 Hiking through a tangle of trees and fresh moss (March scenery, we recommend you hike this trail in either spring or fall)
While exploring this unbeaten trail, I felt a sense of adventure and excitement for what would come next. Possibly another a unique bird, animal prints, or a mountainside vista? Thinking about the possibilities led to pondering over the other, more developed side of the mountain. How would it compare? I had heard it is equally beautiful, but also touristy with thousands of tourists visiting each day, hiking up a plethora of stone steps. The back trail, on the other hand, was the opposite, with hillside villages, dirt paths, and an intimate feeling of you with nature.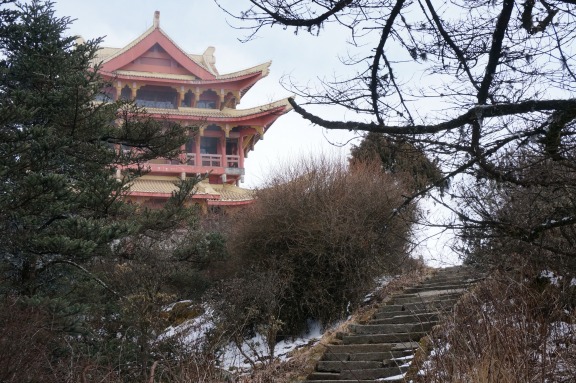 Beyond the steps emerged the Ten Thousand Buddha Temple
After six hours of hiking, we finally reached the Ten Thousand Buddha summit, the highest point of Emei at 3,099 meters (10,167 feet). On the peak resides an isolated temple surrounded by clouds and sky, situated in a quiet, hard to access portion of the national park. It was the perfect place to rest and eat lunch. I gazed into the distance, peaking through pockets of mist and seeing the bluest of blue skies hiding beneath. I felt as if I was high in the air, one with the sky. The nearby Golden Pagoda, a larger than life golden statue of Samantabhadra, shimmered in the distance, waiting for us to visit.
After lunch, we set off to finish the rest of the trek, which was primarily flat as we followed an old train line that once led tourists to the temple. The line is now closed after an earthquake years back. We finally made it to the Golden Pagoda, ending our fun-filled day of adventure.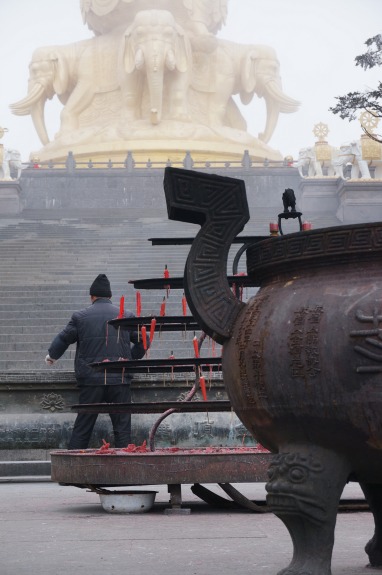 The hike ended at the shimmering Golden Pagoda
This trek is for hiking-lovers, or for those who want to bring out the adventurer within, and witness a very real side of Sichuan's countryside and will be at the tip of your fingertips by September 2014 after roads are fully accessible.
Experience Emei Mountain Differently with AsiaTravel!
[Photos taken by Colleen O'Connor]
_____
What did you think? If Colleen's descriptions of hiking Emei Mountain got you excited, check out other fun, new activities available in Sichuan in the Into the Heart of China's Panda Country itinerary here. If you have any questions, shoot us an email at info@wildchina.com