Lhasa, the capital of the Tibetan Autonomous Region, sits high up on the Tibetan Plateau. In the Tibetan language, Lhasa means 'Holy Land' and the city is a center of Tibetan Buddhist life and culture. 
Staying in Lhasa gives you a convenient lodging from which to view city sights like the Potala Palace and Jokhang Temple. And from a Lhasa hotel base, out of city attractions including crystal-clear lakes and Tibetan monasteries are also easily accessible.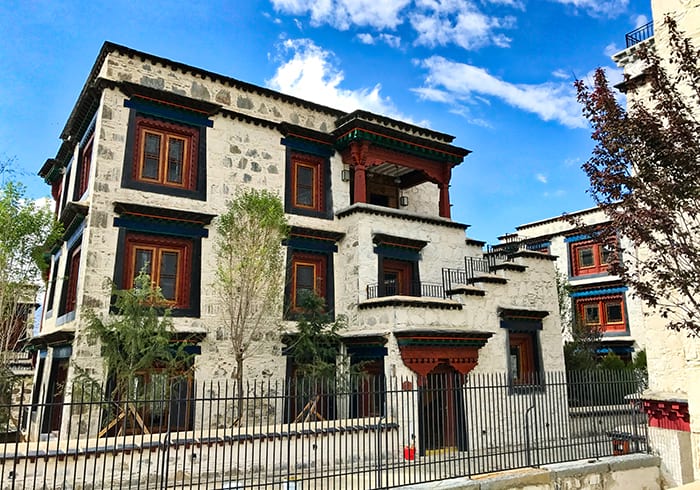 RELATED READING: Top 5 Reasons Why You Should Visit Lhasa
Best Hotels in Lhasa – Songtsam Hotel, Lhasa
China's home-grown Songtsam brand offers luxury, boutique accommodation in the country's Tibetan regions. The brand prides itself on being part of the local community and immerses guests in local culture. Songtsam's newest venture in Lhasa opened in 2017 and is well located approximately 15 minutes by taxi from downtown – giving a tranquil environment to retreat to. The Songtsam Chokyi Lingka, to give its full name, oozes Tibetan culture with the same philosophy of architecture as found in Lhasa's Potala Palace. This shows up in the use of stone, wood and local earth in the building.
The Norbulingka Palace was used for design inspiration and the property even features handmade curtains from a local artisan. This is the perfect hotel for lovers of boutique touches in Tibetan style and, it even has oxygen supplies for those needing to adjust to Lhasa's high altitude.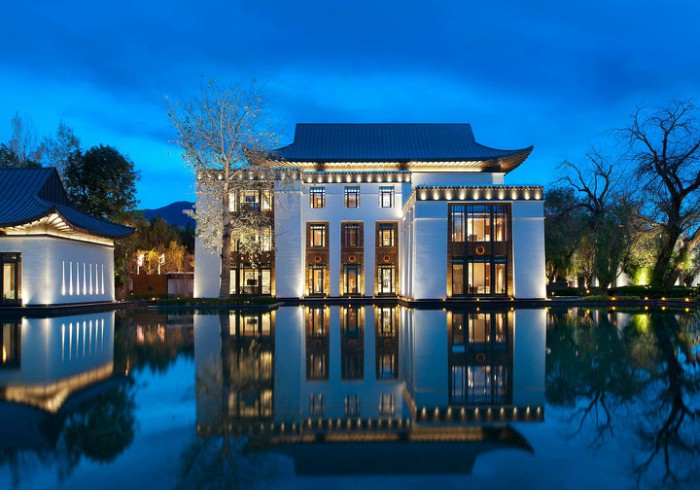 RELATED READING: Where Can I Visit Tibetan Buddhist Monks?
Best Hotels in Lhasa – St Regis Lhasa
This Starwood Group luxury resort hotel is an alternative to Tibetan boutique style, offering what might be best regarded as "contemporary classic" western style. The St. Regis was the first international luxury brand hotel in the Tibetan Autonomous Region and it's located in the heart of downtown, just minutes away from the Potala Palace.
In the St Regis, you'll constantly find yourself transfixed by the surrounding mountains. The opulence reaches a harmonious, earth-toned crescendo in the dining spaces, of which there are three: visit Si Zi Kang for high-concept Tibetan plates, Yan Ting for a range of regional Chinese cuisines, and Social for the buffet.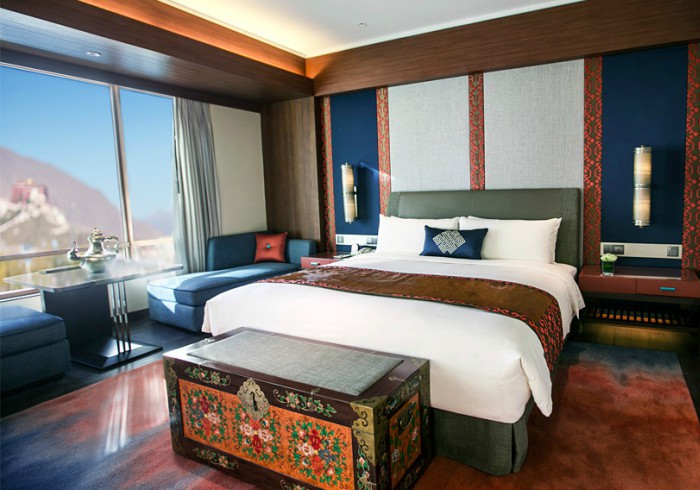 RELATED READING: Do I Need a Permit to Visit Tibet?
Best Hotels in Lhasa – The Shangri-La Lhasa
Shangri-La Hotels are a well-known luxury brand with properties all around China. The Shangri-La Lhasa is in the city center on Lingkor Road and Norbulingka Road, near the historic Potala Palace. In each room, you'll be greeted by a copy of James Hiltons' Lost Horizon, a classic book about adventuring in the wonders of the Orient on the Tibetan Plateau.
The hotel covers a large area, and the grounds are lovely to walk around. Guests will find that rooms are decorated in Tibetan style and many overlook the magnificent mountains and the Potala Palace. Like other quality hotels, oxygen rooms and medical services are available to assist adjustment to altitude.
Whether you're craving five-star luxury or are curious about Tibetan design, Lhasa's hotel options are sure to delight visitors of all kinds. When you travel with AsiaTravel, we not only help you find the hotel that's perfect for your travel style, we'll organize a private guide and driver who will help create a truly life-changing trip.