Finding the perfect place to stay while traveling can be one of the biggest headaches of the entire planning process. If you're visiting Guilin, let us take the guesswork out of the equation for you. Three lodging options stand out when it comes to complementing your AsiaTravel tour, all of which offer something unique to travelers of refined taste.
Best Hotels in Guilin – Alila Yangshuo
First on the list is Alila Yangshuo, formerly a working sugar mill. It is just as beautiful during the daylight hours as at night, when the property comes alive with a warm glow set against the stark backdrop of the mountain ranges Yangshuo is best known for.
Alila Yangshuo
RELATED READING: What to See, Do, and Eat on a Guilin Tour
Renovated to suit the modern traveler, Alila Yangshuo welcomes its guests with top-of-the-line customer service and its own set of customized activities in five themes: Cultural Learning, Conscious Living, Active Spirits, Culinary Arts and Couple Celebration. From a family getaway to a romantic holiday, Alila Yangshuo has something to offer each of its guests.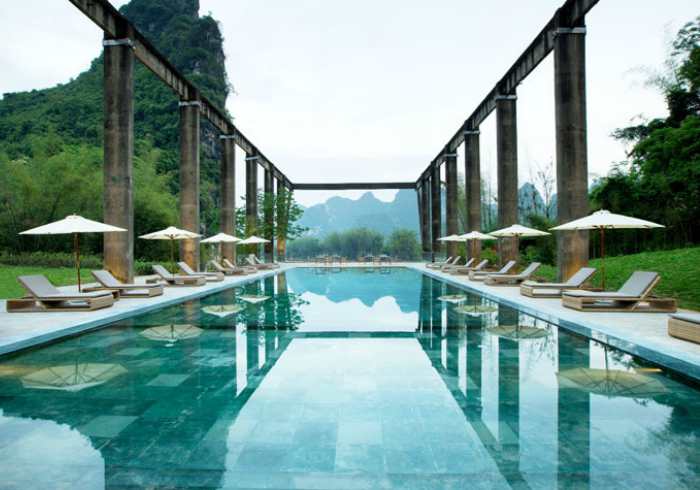 The peaceful pool at Alila Yangshuo
Visitors to Guilin will be astounded by the postcard-worthy views, accented by its breathtaking karst mountains and winding rivers. Those from cityscapes will be delighted to witness the lush green atmosphere. Alila Yangshuo is the perfect place to relax after a day filled with some of our favorite AsiaTravel experiences. These could include exploring the village of Xingping, famous for its harmonious setting in the midst of the placid waters of the Li River, or cycling into the karst mountain landscapes for a private painting lesson.
Best Hotels in Guilin – Li'an Lodge
Now onto Li'an Lodge, located in the Longji Rice Terraces area of Guangxi Province. With only 16 rooms, the hotel has a quiet and comfortable atmosphere. Each room is decorated with local Chinese arts and crafts and individually designed so that no room is like another.
The view of the rice terraces from Li'an
RELATED READING: 7 Things to Do in Guilin
Art lovers will delight in the natural beauty of this area, not to mention the wealth of local art available for viewing in and out of the hotel. During the day in Longji, you can hike through the rice terraces and explore local minority villages with your AsiaTravel guide. Then, in the evening you can reflect on your experiences over dinner with a view.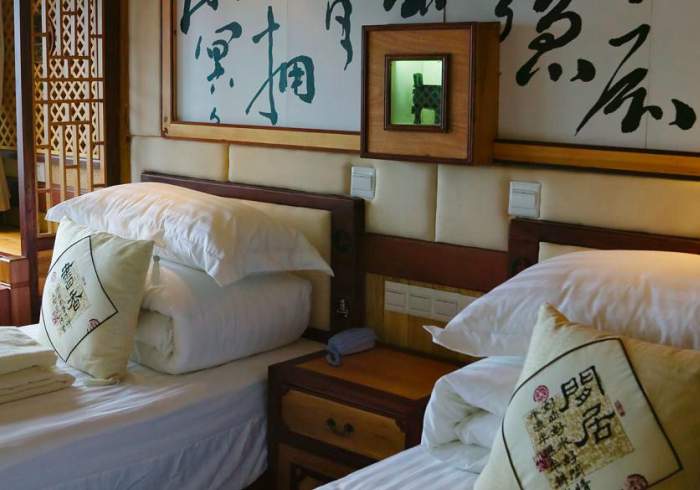 One of the 16 unique rooms at Li'an Lodge
RELATED READING: Why You Should Visit Guizhou and Guangxi's Villages
This welcoming, one of a kind hotel took eight years to design and complete, resulting in a modern property that blends the real feel of China past and present to suit both first-time visitors and seasoned travelers alike.
Best Hotels in Guilin – Banyantree Yangshuo
Last but not least, Banyantree Yangshuo. Perhaps the most luxurious option of the three, this hotel is accented by limestone mountains with unforgettable views.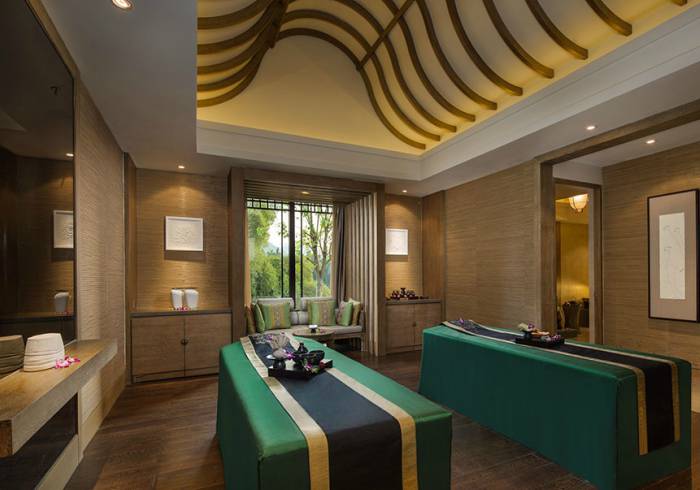 One of the spa treatment rooms at Banyantree Yangshuo
RELATED READING: Top 7 Things to Do in Yangshuo
Guests will never meet a dull moment as your private AsiaTravel guide will lead you on the adventure of a lifetime through the karst landscape and meandering Li River located close to the Banyan Tree. One of the more unusual but unmissable offerings is a cormorant fishing tour, where guests will have a chance to ride a traditional Chinese raft and witness this traditional skill, unique to the Guangxi area.
Guilin welcomes travelers from far and wide and offers a variety of deluxe and elegant accommodations amidst endless options for recreation. If you're still not sure which hotel will best meet your travel needs, get in touch with one of our experienced trip designers and they'll help you make the right choice for your trip.