The city of Hangzhou is just a short train ride from Shanghai and makes an excellent extension to any tour. The city's romantic scenery has inspired poetry throughout the ages and it's a destination often referred to in China as "heaven" or "paradise" on Earth. Should you find yourself passing through with only a day to spare, here are a few ideas to help you make the most of just 24 hours in heaven, we mean – Hangzhou.
RELATED READING: How to Choose Between Hangzhou and Suzhou
Hangzhou Day Tour – West Lake
Morning to Lunchtime
Hangzhou lies at the end of the Grand Canal which starts in Beijing and flows all the way to West Lake, a placid body of water located in the center of the city. 
In a city that embodies the lake's traits: calming, peaceful, beautiful, and mellow, it wouldn't be right to spend your morning rushing around sights and traversing great distances. Slow down to the local pace and let AsiaTravel arrange a private boat with a traditional Chinese musician to accompany you as you drift around and look at the scenery.
From mid-morning until lunchtime, we'll arrange an excellent insight into daily life when we spend time with the locals who gather each day at the park. As you stroll around the lake, passing by a plethora of activities including people singing, dancing, playing around with Chinese yo-yos, and betting money on games of mahjong, your AsiaTravel guide will help to translate your questions and facilitate conversations.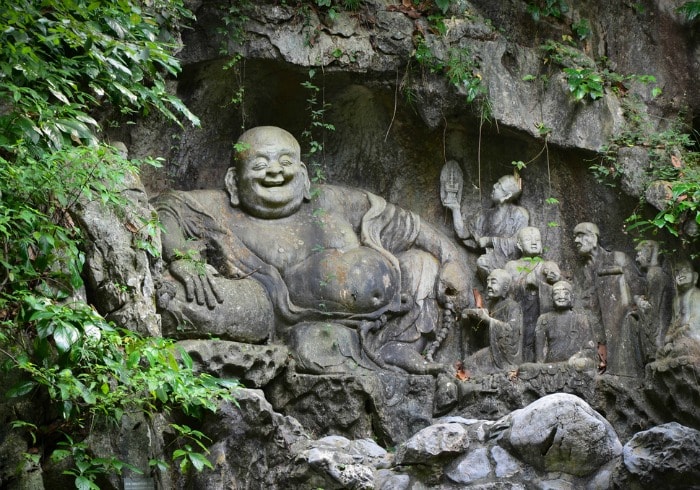 RELATED READING: 4 Reasons to Visit Hangzhou and Suzhou in Spring
Hangzhou Day Tour – Lingyin Temple
Afternoon
One of the most sacred spots in Hangzhou is Lingyin Temple. The temple has been revered by scholars and artists throughout the ages and, during your afternoon in Hangzhou, we'll arrange a walking tour around the Lingyin's serene spiritual sights.
One of China's most significant Buddhist temples, Lingyin is home to stunning grottoes and cave carvings. It has stood between Feilai and Beigao Mountain since 326AD and is hailed as one of the first Zen Buddhist Temples to exist in China. The afternoon is also the perfect time to relax at a teahouse. It won't be your average afternoon tea, though. Hangzhou's specialty is Longjing Green Tea. Originating from Longjing Village (right outside Hangzhou), this tea was a firm favorite of Chinese emperors.
RELATED READING: The Best Second-Tier Cities to Visit in China
Hangzhou Day Tour – Jiangnan Cuisine
Evening
South of the Yangtze River in the Jiangnan area (which includes Hangzhou, Shanghai, and parts of Jiangsu, Anhui, Jiangxi, and Zhejiang) there is a dish that can only be described as a mouthful of flavor and delight – Xiao Long Bao (小笼包). Although there is uncertainty about whether these little dumplings filled with tender meat and delicious soup hail from Hangzhou, they are certainly not to be missed in this region. Longjing tea isn't just for drinking either; the dried tea leaves beautifully compliment lightly fried shrimp.
Should you stay into the evening and are looking for a little romance, come back to the water at the Beijing-Hangzhou Grand Canal and take an evening cruise along the river. The Four Seasons and Hyatt Regency are two five-star hotel options situated by West Lake that can make for a luxurious overnight too.
Even with only 24 hours in Hangzhou, you'll learn why the city was declared by Marco Polo as "the finest, most splendid city of the world." Our Gastronomic Tour of China gives two whole days to the exploration of the delicate and fresh local Hangzhou cuisine – from market to satisfied stomach.