Hangzhou, located in the lower Yangzte region, has always been renowned for its excellent green tea, and is often associated with Chinese monks, intellectuals and scholars who spent their time meditating in temples and conversing in teahouses and beautifully landscaped gardens.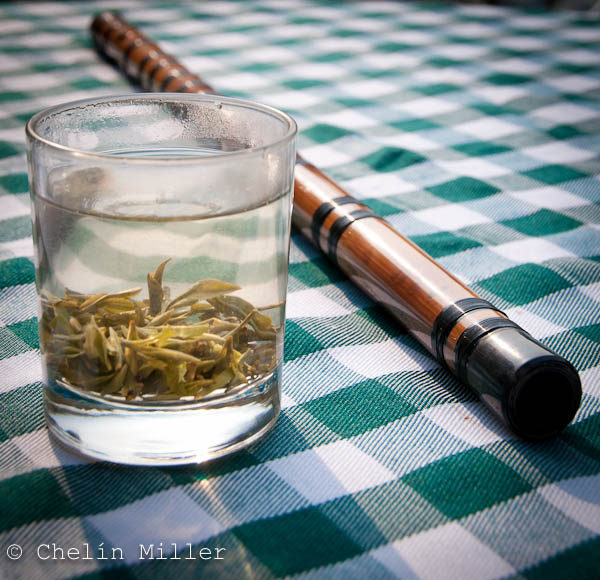 A cup of Dragon Well tea and bamboo flute
On a cold, snowy morning, we visited a tea farm in Longjing, in the hills of Hangzhou, also known as Dragon Well. From Longjing comes one of the best green teas in China. We went during Chinese New Year week celebrations, and although the area was packed with tourists, we managed to escape the huge crowds because Vincent, our AsiaTravel guide, took us to a private farmhouse, overlooking the tea plantations. We were welcomed with "Xin Nian Kuai Le" – Happy New Year greetings, as the farmer's wife extended a glass of hot, fragrant Dragon Well green tea. We sat on the terrace, overlooking the tree plantation, sipping tea, talking and listening to Vincent play traditional Chinese music on the bamboo flute.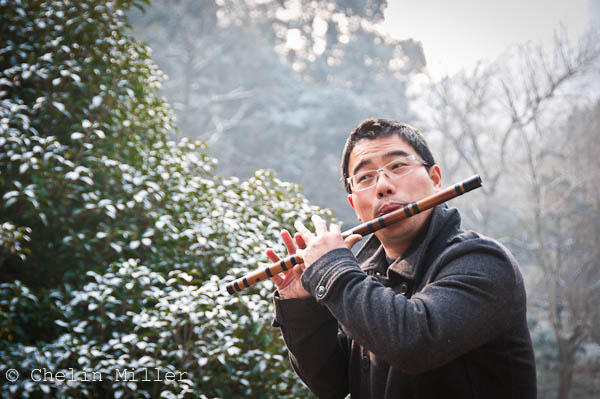 Vincent playing the bamboo flute
It was a sunny, cold, quiet morning. After enjoying the fresh air and warming up with our tea, we went on a short trek up the hills of Dragon Well, cloaked by a blanket of green bushes. The shaded areas were still covered with a thin layer of silver, shiny, sparkly snow that was beginning to melt with the first rays of sun timidly appearing behind the hills. I had to stop every few steps, not because the trek was difficult or treacherous, but because the breath-taking views deserved to be photographed.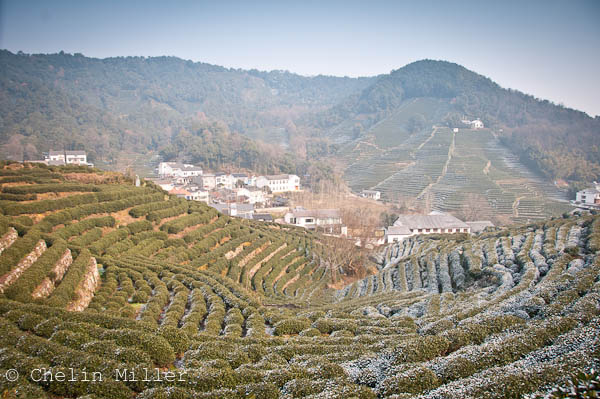 Tea plantations, Longjing
Even on a winter's day, the landscape is outstanding: lines of tea plants uniformly growing along the hillsides, with scattered trees bearing tiny red berries. And below, deep down in the valley, a small fairy-tale village – white houses with black roof tiles, smoke still coming out of their chimneys. After our walk we went to a local restaurant called Green Tea that, as the name suggests, serves a variety of dishes aromatised with the precious crop, as well as other specialities: Green tea handmade Tofu; Green tea roast pork, chicken or fish; Bread temptation, to name but a few local dishes.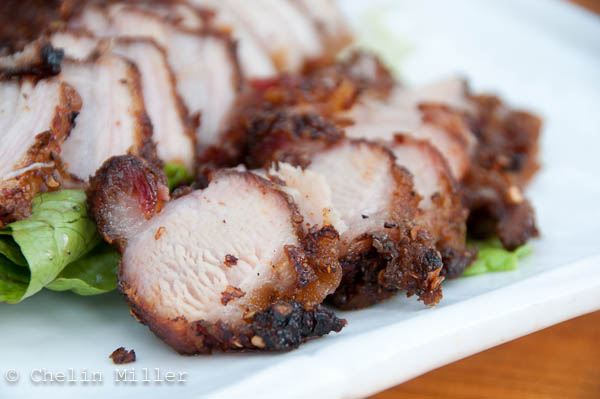 Green tea roast pork
The restaurant has a bucolic, folk atmosphere. Surrounded by a small lake, it is built out of warm, light, wood. It is decorated with rustic pottery vases, freshly cut flowers and ethnic textiles and its many windows allow visitors to appreciate the views. There is an air of congenial hospitality and joy. People sharing their dishes, chatting, laughing. 'Green Tea' restaurant is right next to China's biggest and best Museum of Tea.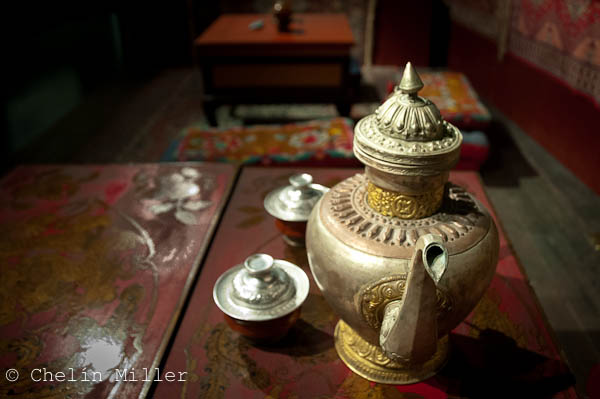 Tibetan tea butter set, Museum of Tea, Longjing
At the museum you will find a comprehensive exhibition of the history, cultivation, production and consumption of all sorts of teas. The museum is surrounded by carefully landscaped gardens, with little creeks and waterfalls scattered all over; ancient trees, exotic plants and beautiful birds … No wonder Marco Polo, upon arrival to this area, described it as 'Paradise on Earth'.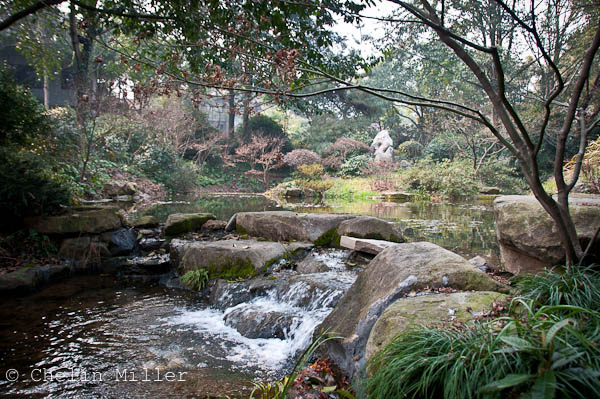 Beautiful garden by the Museum of Tea, Longjing
———-
Interested in learning more about China's tea culture? Drop a line to info@wildchina.com to experience a customized tea tour throughout the country or take a look at Tea & Horse Caravan, which has set-departures from April 11-20 and September 12-21, 2012. 
Words & Photos by Chelin Miller, AsiaTravel's own Yummy Mummy.