One of the oldest cities in China, Xi'an is best known as the home of Emperor Qin's terracotta army but the city's unique and mouthwatering cuisine is a reason to visit in its own right. As the first stop on the Silk Road, Xi'an has been at the crossroads of Muslim and Chinese cultures for centuries and the city's signature dishes reflect the melange of this historic meeting point. Embark on a culinary journey and get to know the best dishes in Xi'an. 
—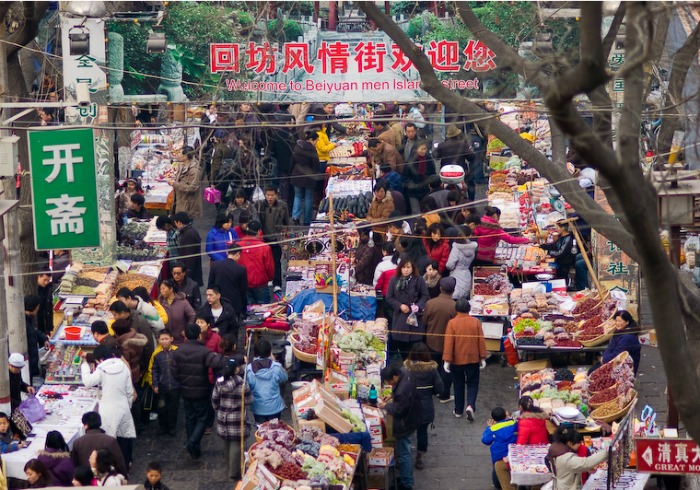 Shaanxi cuisine goes back a long way –  as an important stop on the ancient Silk Road, this central province welcomed travelers who had journeyed from the Middle East. Local cuisine became infused with Middle Eastern flavors and wandering the fragrant streets and side alleys of Xian, you can smell the savory aromas of lamb dishes, Uyghur flatbreads and exotic spices. Pathways are lined with barbecues and sizzling woks and raucous groups of locals dine at tables piled high with local beer and chuan'r. Read on for our pick of five dishes not to miss on your next trip to Xian: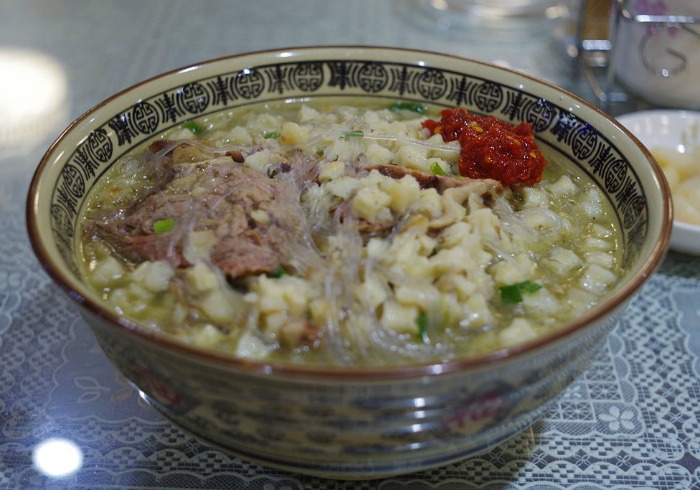 Photo distributed under a CC BY-SA 3.0 license
5. YANGROU PAOMO
A local favorite and the irrefutable star of Xi'an cuisine, yangrou paomo(羊肉泡馍)is a stew with unleavened flatbread soaked in tasty mutton soup. Take your two pieces of flatbread – 'mo' in Chinese – and shred into small pieces. Locals believe the rather arduous task delivers a better hand-pulled texture to the dish. The shredded mo is then returned with the bowl to the chef, who cooks it in mutton soup with rice vermicelli until the bread is fully soaked in the light and aromatic flavor.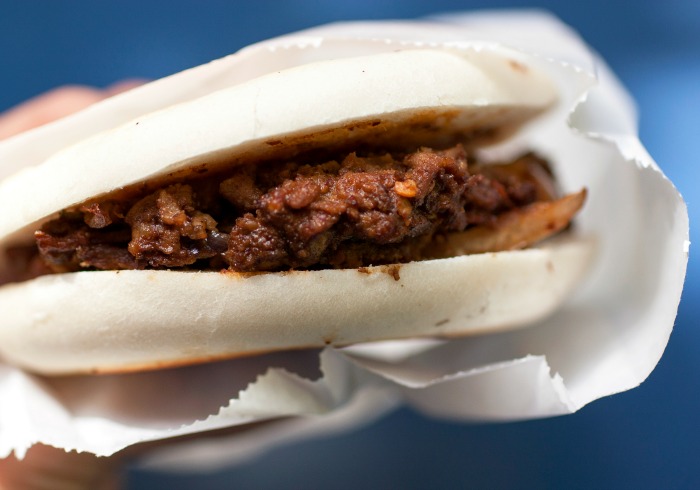 Photo by bionicgrrrl via Flickr

4. ROUJIAMO
Sink your teeth into the juicy, meaty goodness of roujiamo (肉夹馍), Xi'an's take on a burger. The dish is rather simple, made up of two critical ingredients: baked leavened bread and shredded braised meat. The meat filling – either lamb or beef – is braised for hours in a bubbly vat of beef or mutton stew. A hearty portion is then fished out, shredded by hand and tucked in the bread.

Guilhem Vellut via flickr
3. LIANGPI
Roujiamo is often paired with a bowl of liangpi, a cold dish featuring thinly-sliced noodles. When liangpi is served, it is tossed with cucumber shreds and bean sprouts and drizzled in a sauce of pepper powder, diced garlic, sesame paste, black vinegar, and roasted chili oil.
Photo by ckmck via Flickr
2. CHUAN'R
Chuan'r (烤串儿) are a cheap and convenient snack that pair perfectly with a cold, local beer. A small skewer can cost as little as 1 yuan and there is a great variety of choices – lamb, beef, chicken, and potatoes are all favorites. The skewer is coated in chili pepper and cumin powder and roasted on a grill. Xi'an locals can be spotted at hole-in-the-wall restaurants or makeshift street stalls late at night, the table pilled high with these tasty Chinese Kebabs.
Photo by 飞飞1976 via szhome
1. Dumplings in Sour Soup
Only in the Shaanxi capital can you find the authentic taste of dumplings in sour soup (酸汤水饺). The history of the dish dates back over a thousand years, with a complex recipe for the soup – sweet vinegar, dried shrimps, cooked sesame, chicken oil and butter make up some of the many ingredients. The hot and flavorful dish is a perfect comfort for rainy days in the city.
–
Hungry yet? We have two journeys that are perfect for the curious foodie. Check out the Gastronomic Tour of China or Yunnan Gastronomic Tour – both of which are curated and led by Fuchsia Dunlop, a world-renowned chef and Chinese cuisine guru.